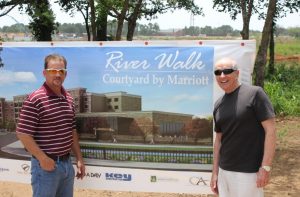 Unless you're completely out of touch in Flower Mound and its environs you know that a river walk is being built in the vicinity of the Texas Health Presbyterian Hospital (THPH), located north of FM 1171, along the east side of FM 2499.
When completed, in early 2017, the 158-acre chunk of real estate will very likely be a magnet for shoppers, diners and those looking for recreation in entertainment and the arts. According to Bobby Dollack, the Senior Project Engineer at G & A Consultants, a Lewisville-based firm, about 75 percent of the work will be finished by the end of 2016.
The massive project will have a picturesque canal with water being pumped from a set of valves that will create the free-flowing river, waterfalls and fountains throughout the center of the landscape.
In addition to the River Walk at Central Park (RWCP), Mr. Dollack has been responsible for the coordination, design and construction review of many engineering projects in southern Denton County and the surrounding area, including the Shops at Highland Village and the Bartonville Town Center.
Although there's been much controversy over the clear cutting of trees to build the multi-faceted River Walk development, Dollack said the trees that were removed will be replaced by even more trees that will be planted throughout the complex, including many in the scenic parks that are part of the design.
Millions will be spent on those trees, including the replanting of 6" caliper trees about 30 feet apart along many of the streets crisscrossing the high-end development. Moreover, a structural soil base will be inserted under every sidewalk in order to assist the growth of healthy tree roots.
There will be about 1,250 living units, which includes 2 apartment complexes. The apartment buildings will have 307 units in one and 358 in the other. There will also be 263 town homes and 95 villas for sale. Another building will have over 200 upscale apartments designated for independent living seniors, 55 and up. Currently, those units already built have about 90 percent occupancy.
Additionally, there will be 72 two-story town homes for sale on Riverwalk Drive. There is still work on the footprint and designs for the independent living building, which will have high end maid service, an interior movie house and aquatics. The premise behind it will be about managing one's quality of life. This will soon be brought up for P&Z approval. If they get their architectural plans by the fall they could be part of the 75 percent completion by the end of 2016.
"This entire park is privately owned and open to the public," Dollack said. "It will be run by a management group from the Property Owners Association. There will be an event coordinator and overseer of the maintenance crew, as well as other management crews to oversee other aspects of the Riverwalk. Each HOA in the Riverwalk will have a responsibility towards the POA for proportional shares assessment."
When asked what a typical day is like for him, Mr. Dollack said he and his staff of 38 are always striving to meet the expectations of their clients, working on deadlines and coordinating with the town staff and town council. "Every Tuesday, we have a staff meeting and all employees are involved. We have this large wall with all of our projects, Riverwalk being one of them, and we go over the whole company, detail by detail."
A couple of weeks ago there was a groundbreaking for the luxurious Courtyard by Marriott Hotel, which will be right next to Presbyterian Hospital. Other amenities at the RWCP will include a wedding chapel and a museum directly along the beautifully landscaped canal. At 1,600 square feet, the museum will be home to an assortment of memorabilia representing the history of Flower Mound.
Dollack said the total cost of the RWCP will be well over a billion dollars. As for the river portion, about $5.2 million has already been spent, but, when finished it will total between $7 and $8 million.
"The master architect behind the Riverwalk was David Schwartz," Dollack said. "He did the Bass Performance Hall, Ballpark at Arlington, Rough Riders Stadium, and many big projects all over the world.
"Cole McDowell dreamed up the concept of the River Walk and got the entitlements on it. We worked on it from 2006 to 2008.  He [McDowell] had a great idea of creating a special place for the Town of Flower Mound. He had a dream and a vision," he added.
About two years ago, after interviewing Merdad Moayedi of Centurion American, the developer of this huge project, I was amazed at the man's accomplishments, his enthusiasm and his vision for what I believe will ultimately become the crown jewel of North Texas.
After spending a couple of hours with Bobby Dollack, a man who understands what it takes to create artwork of this magnitude, I can understand why he was chosen to assist in making this dream a reality. Married with two children, Bobby and his wife Lisa, a competitive bodybuilder, live in Lewisville.
Bob Weir is a long-time Flower Mound resident and former local newspaper editor.