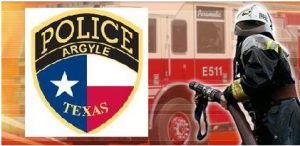 The Town of Argyle recently appointed Lt. Chris Muscle of the Argyle Fire District (You remember him. He helped save a puppy from a blazing home in Lantana last month), to be the town's assistant emergency management coordinator.
"This was done in an effort to share resources and knowledge between the fire district and the town as it relates to emergency management," said William T. Tackett, Argyle's police chief.
Tackett is the town's emergency management coordinator.
Muscle put together an emergency management newsletter designed to help get out the word to area citizens. Included in this edition is information about weather sirens, emergency preparation and answers to FAQs.
Congratulations Lt. Muscle!