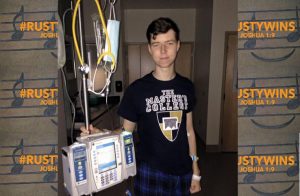 Rusty Vittrup, a Liberty Christian School alumnus, gets hold of this iconic Frank Sinatra ballad "The way you look tonight."
Vittrup, 19, is battling Leukemia and his spot-on tenor vocals are another knock out in his fight against the disease.
According to a GoFundMe page set up in his honor,  Vittrup was diagnosed with Acute Lyphoblastic Leukemia in May of this year. He is being treated  at Children's Hospital in Dallas Texas and was just last month found to be in remission.
He's in his first year at Master's College in Santa Clarita, California where he's majoring in music education. He plays clarinet  in The Wind Ensemble & sings in The Master's Chorale.
Rusty grew up in Santa Clarita and went to Santa Clarita Christian School K-4. His family moved to Texas where he started at Liberty Christian School, graduating in 2014.
Rusty lives in Justin.