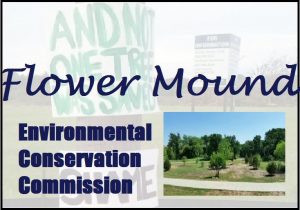 The removal of a section of Flower Mound's land development regulations regarding tree mitigation was unanimously supported Tuesday evening by the town's environmental conservation commission.
In a unanimous vote, the ECC decided it would like the following portion to be removed:
"All property zoned for nonresidential use and included within the Lakeside Business District, the Denton Creek District and all specific plan areas as defined in the town's comprehensive plan relative only to the requirements of replacement trees and or cash equivalents for the removal of protected, specimen, majestic and/or historic trees pursuant to a tree removal permit granted by the town council."
If this piece is removed, it means that in the future, non-residential projects in the mentioned locations must mitigate for the removal of protected, specimen and historic trees that were approved for removal during the development process.
"We're not doing anything radical here," said Commissioner Alton Bowman. "We're just returning it to the way it was 15 years ago. I want to thank Councilman [Brian] Rountree for helping us out with that one. It's just for the good of the town and we appreciate it very much."
The town's goal is to have a 35 percent tree canopy.
"I'm sure that at the time when it was enacted there was good legitimate cause …  It spurred development, but at the same time we've lost a lot of tree cover canopy," said Commissioner Joe Haver. "I think it sends a message that we are tied to the environment and our trees and I think a lot of commercial developers now really understand the value trees provide. I think this is going to be a better place to do business."
Boiled down, if the exception is removed, developers would have to plant a replacement tree or make a payment instead.
"It's the beginning of our tightening all our tree ordinances," said Commissioner Carol Kohankie. "I think we have some gaps and holes that have come to the surface and hopefully this is the beginning of more work that we can do to strengthen our tree ordinances."