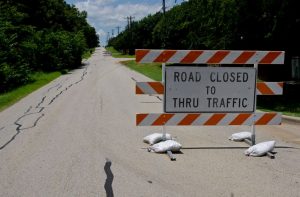 I want to state that people are saying you should have known better than to buy or live near a school, you should have known this would happen. Like we are all idiots!
FACT:  Many of the homes were here along with the people in them long before the school was built and the master plan had no changes to Sagebrush. I myself, called the town when I purchased in 2007 and they directed me to the master plan of 1986 online and told me there were no plans to change it at that time either.  I am a realtor so yes I would do this when I move somewhere.
When this started, in 2013, one of my neighbors read an article in the paper that Sagebrush was to be a new 4 lane Urban Collector through town. We thought a collector to where?  A parking lot, that's strange, why???? So four lanes, a large median and sidewalks or trail. So we had 3 days to contact the others and were so shocked, and unprepared for a town hall meeting to diffuse it.  None of us ever had to deal with anything like this before and many of my neighbors are older and not on line to keep up with this all. Some of us are just hard working citizens that work lots of hours and some have kids involved at school activities that I have to admit, our heads were in the sand about any changes … surely the town would have contacted us directly since this did affect our daily lives and property values.  Nope, that was not the case.
So we all trooped up to Town Hall and just let it out in "3 minutes" not knowing where it was going, but very concerned in all aspects, they were voting that night so we had no time left.  It was pretty much a disaster, it went all over the place, and these people are not public speakers and had no direction just lots of emotions. The residents don't have the knowledge and experience that the town officials have so they were told this is what's going to happen and you will live with it.  Oh by the way, you can have some say in the design, so that gave us some hope.
May 22, 2014:
So here we go, 30 percent design meeting:  No one showed up but the residents and the engineer's, so here's where the public thinks they know everything, they were not there, just us — neither was Mr. [Tom] Hayden or Jimmy Stathatos — the plan originally looked so pretty as they described in the town council meeting that this median we were opposed to was to have beautiful trees lining the middle since some of our trees were going to be taken, what a great way to put them back. Oh well.
Then we noticed that many driveways that were not given access properly. Tad Marko's drive was originally completely left off. So, here we all go, they gave us all a big bunch of red markers and three large plan tables to start drawing, trying to fix this design.  It was red everywhere, looked like a bunch of 2-year-olds making a big red mess.
Engineers told us thank you and they would fix all those things and we would see them repaired on the 60 percent design meeting.
August 25, 2014
60 percent design meeting, again only the engineers and us.  Well, the repairs that some drew on the 30 percent meeting ended up causing other concerns and the median still had issues. Many of us have large lots for a reason. My husband and I own a cattle ranch and bring our large cattle trailers home after we have been to the sale barns, the proposed plan showed no room and no radius to turn in to our drive without running over the median.  Tad Marko had the same issues and same concerns as we did.
Other neighbor's would have to go one direction or go down and U-turn in order to access their driveways; thus causing more unsafe conditions for the residents of Sagebrush. So again, problems and here comes the red markers!  So that one was chopped up and was to be redesigned and fixed at the 90 percent meeting.
January 28, 2015
90 percent design meeting, again only engineers and residents. Well, now the median is in some areas and not others, there are flat medians in many of areas where a raised median would not work.  That fixed some of the ingress-egress issues but not all.  Mr. Thornley that has a beautiful gated yard with a circle driveway only has access to one side of his circle (It is still cut off on the 100 percent design). Oh, but they told him he has another side of his driveway he can use. Can this be right? So again markers came out and we tried to fix more.
WE NEVER saw the 100 percent design. After waiting a while, I emailed Gregory Perry asking when the 100 percent design meeting would be so we could see again the changes. He replied that there would be no 100 percent design meeting. I was very concerned since this was not an ideal design from the start and many issues throughout the process.
Let me say that the engineers were just trying to do their job and make things work but with no emotion, this is just another piece of concrete to place in this town. So we had to live with where ever those red markers led us. I did not feel like we were done. My neighbor's said they were just giving up, they had complained throughout all the design meetings and felt that they had no more say, no one listened in the beginning and the town would do what they wanted in the end. That really bothered me, so after the last election reading about the changes to town council the last election, I emailed the 3 new town council members to see if they would listen.
Mr. [Brian] Roundtree and Mr. [Itamar] Gelbman came to see our concerns on a Saturday morning. By this time some locals grouped up on FMC, FM Vibe and FM Inconvenient Truths FB pages, and went at it with no knowledge of what we the residents have been though, but posted things that this was all political. It went on and on for days. It made me laugh in a way, because when most of my neighbor's that showed up to meet these new council members in my driveway that morning, my neighbors said, "Who are you guys again?" So trust me politics had "nothing" to do with it.
My neighbors and I just had a glimmer of hope that this design could be better if someone would just listen. These new town council members told us they wanted to see our concerns and there was no promise anything could be revised but they would try after seeing what we were talking about. They were here for hours and walked every driveway they could with the residents that attended. One neighbor has the entire turn lane in front of her house, I feel for their resale value for sure. We just wanted to be heard. If this would have happened in the very beginning we would not all be here now in this unfortunate situation of diversity.
So with that said many of the same people posted angry things against Sagebrush residents stating that "it was political, it costs the town so much money because of the changes in design."
Let me set that straight!!! The design was changed so many times because the original design was not working; it was not the residents fault. We would like to enter and exit our driveways … it is still not an idea plan.
MAKE NOTE: There is no other street in The Town of Flower Mound with direct egress/ingress that a median has ever been done this way.  So we are the guinea pigs here and supposed to be happy about it.
I kept addressing property values and then the same group kept saying we were crazy again. Yes large urban collectors are unattractive to the buying public. They may love the home but do not want to deal with a large road every day to get in and out. As a realtor I hear this constantly in others towns surrounding. It happens over time, when one tries to sell and has to lower the price to accommodate the inconvenience of the issue and it's cheap enough for someone to deal with it (Which means the value has been lowered).
Then the next neighbor goes to sell and that comp now is used to appraise their home, so it is lower, then the next and then next, by every home lowering their price to accommodate the lower appraised value of each, 5 years later they all have declined. Ultimately the current homeowner now takes the bigger hit. But no one would listen to that either, as we asked to look at widening Peters Colony and Church Hill since they don't dead into a school, and no homes would be affected, Sagebrush is just a Band-Aid to this problem.
These are the kind of people that keep our town divided, there are many more like her.
To us it's just about our street.
At the end of the day when this is over, the residents here on Sagebrush have to live with the outcome of it all, so we are just trying to make the best of it. Since the Town is growing and moving out all the wildlife, trees and now older rural areas with homes. It's sad but we are only one street, so we don't look important to many.
Even though many of the owners have been here since the 70s paying taxes all those years and here before the high school and Sagebrush was not in the master plan of 1986 because then they knew this was a residential street with homes and driveways enter and exiting.
Things change with the councils, many master plan amendments have been made, reclassifying streets to accommodate the changes they want to make. We are just one of them. Many more will most likely be made. Others will be affected by some of our welcomed and unwelcomed progress.
Our concerns have not changed since the beginning:
Property Values
Safety-add sidewalks
Egress and ingress issues-we really need to get in and out
If the improvements encourage more traffic, the speed limit needs to be lowered. More police patrol. If teenagers and adults speed on our road they speed other places too.  The people who drive cars have to have some accountability every time they get behind the wheel of a car.
The design needs to work for everyone, other avenues to route drive traffic around the school such as Peters Colony and Church Hill were not discussed when we suggested it. Our street dead ends to a parking lot, this is a lot of money to spend on a short road to nowhere.  It's not for the majority of the public use.
Thank you,
Linda Martin
Sagebrush Drive
Flower Mound, TX