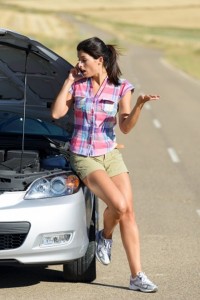 Weather extremes are hard on our vehicles, there's no doubt about it. Frigid winter temperatures have an adverse effect on many of the same systems, fluids, and parts as do the high temperatures of summer.
Kwik Kar Flower Mound recommends vehicle owners have the following items checked now, early in the summer season, to help prevent the unwanted surprise of a breakdown. Even if you're not planning a long road trip, car trouble during your everyday commute is a hassle, and potentially dangerous.
Cooling System: The most common cause of a vehicle breakdown in the summer is overheating. Because heat causes liquids to evaporate, the level and condition of the antifreeze/water mix should be checked. The system should be completely flushed and refilled periodically which, depending on several factors including the formulation of the antifreeze used in your vehicle, should be every three years or 30k miles. Proper maintenance of the cooling system is very important to the life of the engine and transmission.
Fluid Levels: In addition to antifreeze, your motor oil, transmission fluid, power steering fluid, and brake fluid should be checked and topped off if necessary. Fluids not only lubricate but also help to carry heat away from the components they serve. Kwik Kar Flower Mound's full-service oil change includes checking all of these fluids and thirteen additional fluids, systems, and parts. And they vacuum the front interior. No, that has nothing to do with fluid levels – it's just a nice bonus.
Battery: It's not just wintertime that stresses a vehicle's battery – heat and vibration wreak havoc as well. While you can't control the heat, you want to be sure that the bracket holding the battery in place and the cable clamps are tight and secure. Also, the terminals should appear clean and free of corrosive buildup, which can occur if the summer heat evaporates the battery fluid. If your battery is more than three years old, have it tested to determine how much longer it may last. Excessive heat shortens the life of a battery.
A/C: The air conditioning not only makes you more comfortable in your vehicle, it also purifies the air, reduces humidity in the cabin, and defogs the windshield. When your vehicle's air conditioning goes out in the summer, obviously you want it fixed ASAP. But even a weak-performing A/C should be checked out right away because it can be a sign of other problems as well, such as with the serpentine belt. To stay on top of undetected leaks or mechanical issues, have a complete air conditioning system check once a year or every 12,000 miles.
Summertime heat can affect your tires as well, causing the rubber to dry out and the air pressure to increase, leading to uneven wear. Have tires rotated every 5,000 miles, check the pressure once a month, and if you do see uneven wear, have Kwik Kar Flower Mound perform a wheel alignment test. Wiper blades can dry out, too, making them less effective, and washer fluid can evaporate.
Feeling a little overwhelmed? No need. Kwik Kar Flower Mound can take care of everything we've listed here. We care about your comfort, safety and peace of mind, and our ASE-certified technicians will gladly perform a summertime check. Give us a call today.