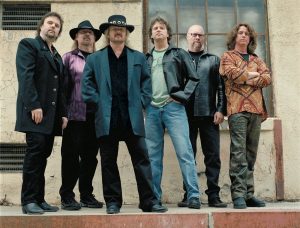 Continuing the tradition, the Town of Flower Mound will celebrate July Fourth with its annual signature event, Independence Fest, headlined by popular southern rock band 38 Special, presented by Market Street. Filled with activities for the whole family and unforgettable live music, Independence Fest is the perfect way to celebrate our nation's freedom.
Beginning with the popular Children's Parade and concluding with a spectacular fireworks finale, Independence Fest will also feature a vintage car show presented by Time Machine Car Shows, a showcase of local businesses, and a variety of delicious food vendors. In addition to 38 Special, the self-proclaimed "greatest disco band in the world" Le Freak will also perform on the main stage along with crowd-favorite country act Breaking Southwest. Special thanks to our main stage sponsors: Cornerstone Staffing, U.S. Renal Care and Tarrant Nephrology Associates.
"Put on your red, white, and blue Saturday, July 4 and come help Flower Mound celebrate our country's Independence," said Parks and Recreation Director Chuck Jennings. "In keeping with tradition, the Town has lined up three great bands to entertain you throughout the evening and will conclude with a spectacular fireworks finale."
Flower Mound's July Fourth activities will begin with the Children's Parade from 10 a.m. to 1 p.m., where everyone is invited to participate with their festive bikes, trikes, strollers, wagons, and more. Lineup starts at 9:30 a.m. at the corner of Eaton and Timber Creek Road; participation is always free. The parade will conclude at the Lewisville ISD Administration Building, 1800 Timber Creek Road, where attendees can enjoy free hot dogs, drinks, face painting, live entertainment at the free Kid's Zone. The Kid's Zone will also include inflatables and bounce houses, a rock-climbing wall, and games for all ages.
The Independence Fest 2015 evening program, which includes the free concerts, fireworks display, vintage car show, and local business showcase, will take place at Bakersfield Park, 1201 Duncan Lane in Flower Mound. Gates for the festival activities will open at 5 p.m. and this year, due to the crowds, there will be no on-site parking available. However, all free parking and shuttle information listed on the Independence Fest informational website at www.flower-mound.com/festival.