Monthly roundup of news from Lantana as published in The Cross Timbers Gazette.
Out of the 29 residents running for five seats on the Lantana Community Association (HOA) board this fall, only one has the distinction of being an incumbent.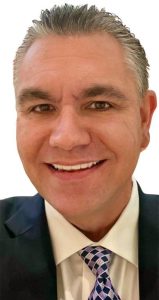 Kharl Mena, a resident since 2007, has served in two capacities with the HOA since 2015, first on the Advisory Board, then as a voting board member.
Over the past eight years, Mena has attended HOA board meetings, learned about the amenities, financials and the CC&R's (Covenants, Conditions & Restrictions) governing the development.
"Being on the Advisory Board was critical to being able to do any of this," said Mena. "You do a lot of listening and start to learn and understand the whys of certain things. You learn the history and why things work the way they do."
Mena was appointed in 2017 to fill an open HOA board seat previously held by the developer.
"Being able to move over to the board and have decision-making power, again the same rational has to come into play," said Mena. "We have to rule on certain things. We keep the individual in mind, but it's ultimately about what's best for the overall community."
Mena said he is proud of the new amenities the HOA has added over the years during his tenure, citing the basketball court and Community Event Center as examples.
"Being part of an HOA board is keeping property values up, keeping the quality of life strong and consistency of the rules based on the CC&R's," Mena said. "That's it. It's pretty simple."
Mena said consistency is the key to success.
"The bylaws were put in place for a reason," said Mena. "They were designed in such a way to keep the community looking good, being livable and improving property values. And those three things have been consistent for as long as I have lived in Lantana. The community looks almost like it did, if not better, than when we first moved here."
After 22 years, Lantana will transition from developer to homeowner control as residents elect five homeowners to sit on the HOA board. Board members will serve two-year terms working with Insight Association Management, the community's onsite management company.
Mena's advice to fellow candidates is to understand what they are signing up for.
"If you are running because you have something you specifically want to change, make sure you that you understand what it takes to make that happen," said Mena. "You need two-thirds of residents to approve a change to the covenants. Is it something that is feasible? Make sure you understand what you can and cannot do, and truly listen more than talk."
Mena added that his only agenda is to ensure the community stays beautiful, continues to provide exceptional amenities and remains a place where memories are made.
"It's a phenomenal neighborhood," said Mena. "I'm throwing my hat back in the ring because I love the community and I want to see it continue to thrive."
The HOA board election date has been in limbo since this spring due to delays in conveying 27 parcels of developer-owned land to the Fresh Water Supply District. Visit lantanalive.com to stay updated about the election timeline and learn about the candidates. Call 940-728-1660 with questions.
Lantana Ladies League: Putting the Focus on Volunteering
The Lantana Ladies League launched their 19th year of giving back to the community on August 15th. Over 150 ladies attended the kick-off meeting to reconnect and hear plans for the 2023-24 membership year.
Shawna White, LLL president, announced a new initiative for the year, challenging members to give more time and volunteer hours to partnered charities in the greater Denton area. Representatives from many of those charities that will benefit from the League's upcoming events spoke to members about their goals this year and how members can give their time. These charities include Mission Moms, Socks for Seniors, Journey to Dream, CASA, Heart of the City Lewisville, Oxford House, Ranch Hands Rescue/Bob's House of Hope, Refuge for Women, SheSupply, Young Lives, Meals on Wheels, Happy Pet Project, Humane Tomorrow and Senior Paws.
Court Appointed Special Advocates (CASA) of Denton County was the beneficiary of the kick-off event. Members donated over $1,000 from proceeds of the 50-50 raffle and additional donations. CASA advocates for the best interests of children who have experienced abuse and neglect. Their trained and supported community volunteers build a strong, consistent relationship with each child and their family, promote community resources, and make informed recommendations to the court.
Special thanks to Tiff's Pics 4 U and Just Graze who helped make this event a huge success!
If you missed out on this great event, it's not too late to join us for future events, like our Purse Auction on Friday, Nov. 10.
For more information on the Lantana Ladies League and upcoming events, go to lantanaladiesleague.com or follow us on Facebook or Instagram. (Submitted by Shawna White, LLL President)