By Ricky Vaughan, Fire Chief, Denton County Emergency Services District No. 1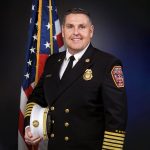 May is National Water Safety Month in which we take time to recognize and encourage drowning prevention and water safety education for children and adults.
Sadly, drowning is the leading cause of death for children ages 1-4 and the second leading cause of death for children ages 5-14 (CDC, 2023). Drowning is silent and can happen very quickly.  If you have children that are swimming, commit to always assigning a "water watcher" and ensure adult supervision is always provided by putting away cell phones and eliminating other distractions such as food, drinks, or socializing while watching the water. If you would like "water watcher" bracelets to use as reminders while at the pool this summer (as seen being worn by our firefighters in the photo), please come by Station 511 at 511 Gibbons Road to pick them up at no cost!
In recognition of National Water Safety Month, we will be giving away 200 *FREE* life jackets (first come, first served) in collaboration with Safe Kids Worldwide at the 3rd Annual Child Safety Fair with Argyle Police Department on Saturday, June 10, from 10 a.m. to 1 p.m. at Liberty Christian School, 1301 South Hwy 377, Argyle. Please join us as there will be lots of other fun giveaways and activities as well!
May is also the mid-season for tornados in Texas. As always, we encourage all of our citizens to sign up for free emergency notifications from Denton County Emergency Services District #1 by clicking here or calling 940-464-7102. Weather notifications are automatically generated for our citizens within the Denton County ESD #1 when the National Weather Service issues a "watch" and/or a "warning."
For the month of March, the Denton County Emergency Services District #1 responded to 272 calls, with 65% being medical related and 35% being fire or service related, and an average response time of 6:47 minutes.
To reach Chief Vaughan, send an email to [email protected] or call 940.464.7102.