For the past two years, Liberty Christian School leadership has been excitedly promoting several major enhancements, renovations, and other fascinating campus upgrades that they had in the works, thanks to generous donors who gave to their Pathways to Excellence Campaign. And while they meant every word, perhaps the hype for what was on the horizon might have seemed too good to be true.
Now that everything is here and ready to use, it's clear the school's redeveloped campus on Hwy 377 in Argyle is everything it was cracked up to be.
On April 14, the school hosted a grand opening for its brand new Warrior Student Union, STRIVE Center, and Warrior Welcome Center. Also part of the overhaul is a new turf infield for the baseball field, a revamp of the campus entryway, and a repositioning of the very popular Liberty Locker store, among other notable enhancements.
Construction for the project began on August 1 and wrapped up in plenty of time for the entire Liberty community to enjoy their new amenities before the end of another amazing school year.
"Liberty hasn't had any large construction in several years. The last time was in 2014 when we expanded our upper school building and added lower school classrooms, a gymnasium, and other upgrades," said Dedra Brynn, vice president of advancement and strategy. "This has been a long time coming and covers a collection of needs that touch every area — fine arts, athletics, and academics, in addition to our spiritual life and community needs."
Brynn added, "From a construction standpoint, it was very smooth. And because we did it in phases, we didn't disrupt our school days."
Amy Mauldin, the school's director of communication, agreed.
"It's an exciting time, and there are always ways to do more," she said. "There is a master plan for our school, and as the opportunities arise, we are always looking into whatever is beneficial to our students, mission, and vision."
The large, glass-walled Warrior Student Union is a place for students to gather, collaborate, and experience a Christ-centered community. Dubbed a place students can "call their own," it includes flexible seating options ranging from individual study areas to multiple small and large group configurations. There is a stage, a glass conference room, large family-style tables, and work centers for group sessions with peers, teachers, staff, and mentors. The student union is also home to the Liberty Lattes coffee shop, which is operated by the entrepreneurship class. It offers coffee and smoothies at designated times during school days.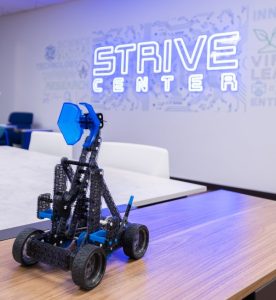 Located next to the student union, the STRIVE Center is a 4,000-square-foot innovation lab for Science, Technology, Research, Innovation, Virtual Learning, and Entrepreneurship. It is for students in preschool through senior year and provides opportunities for students to take the knowledge gained through academic coursework and apply it through project-based learning, research, entrepreneurship training, engineering projects, and other endless possibilities. The Innovation Lab also provides opportunities to engage the local community by inviting Liberty business professionals and community organizations to share their expertise, knowledge, and real-world experiences. In addition, the space can host competitions and events, such as the Conrad Challenge. The Lab area will expand college recruitment opportunities and showcase students' academic and innovative skills and talents.
"The idea is to get all students into this space throughout the school year," Liberty's Innovation and Design Center Director Jamie Michalek said. "We've included 3D printing stations, project areas, power tools, CAD software, etc. Our robotics classes and competitions will filter through the STRIVE Center, as well as college courses and our new internship program."
The Warrior Welcome Center is a community-based project that gives the Liberty community more immediate access to volunteer opportunities, admissions personnel, and a small group meeting space for grandparents, alums, volunteers, and more.
In addition to these enhancements, Liberty Locker was moved to the main entry area to improve its visibility so parents and students could easily purchase school uniforms, spirit wear, branded memorabilia, etc. Lastly, the school's front desk area was moved to the center of the main entry to improve visibility and address security concerns.
"There is plenty of fun and excitement surrounding these projects and what they can do for our students and community," Brynn said.
For more information on Liberty Christian School, schedule a campus tour or visit www.libertychristian.com.
(Sponsored content)