If you love the mountains, you'll love Utah's Sundance Mountain Resort. It may sound familiar because of the famous Sundance Film Festival, but there's much more to this amazing place.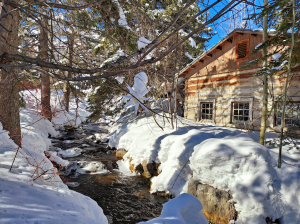 Sundance is in a beautiful, bountiful canyon. The Ute Indians lived here until 1899; later Scottish immigrants homesteaded this area for over 70 years. In 1969, Robert Redford, the movie star, started acquiring this land. Redford is known to be a talented actor, but he is also a very impressive visionary and conservationist. His dreams and desires were to create a community committed to nature and art while honoring its cultural heritage. Today, this quaint resort remains true to its original focus.
Sundance is a winter wonderland and their snow is absolutely epic! This remarkable resort tucks against Mount Timpanogos that towers 12,000 feet into the sky. Tackle 42 runs that offer options for the novice, intermediate or advanced skiers and boarders. Complimentary tours are offered of the mountain to get tips for the best runs for your abilities. Explore miles of groomed trails on cross-country skis at the Sundance Nordic Center. Or, strap on a pair of snowshoes to trek along 6 miles of dedicated snowshoeing paths. The scenic trails wind through secluded terrain, 1.5 miles away from the downhill ski area, so you can enjoy the raw and natural sounds of the mountain. Another option is to hit the slopes at night for some beautiful evening skiing underneath the stars.
Sundance in summer is sensational. You can challenge your mountain-biking skills on more than 25 miles of trails accessible by lift. Or, just enjoy the view by taking a relaxing ride on a lift to the top of Ray's Summit and settle down to enjoy the view. It's fun to have a scenic lunch at the Bearclaw Cabin at the top of Red's Lift.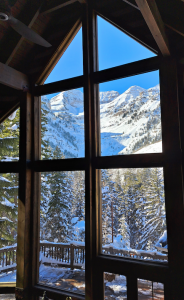 It's always a treat to listen to live music on Sunday afternoons at the Sounds of Summer Concert Series, performances at the Owl Bar or Bluebird Café Concert Series.
Sundance in autumn is awesome and it's the perfect time to take a hike and see lots of color. Take the lift up to Red's Summit for a hike and follow Red's Summit Trail – back down the mountain for wide-open views of scenic Stewart Falls and the mountains decked out in autumn's fantastic foliage. More than 10 miles of alpine trails wind through the resort.
Other activities we enjoy, are  'Soar over Sundance' – a Zipline Tour down Outlaw Span, which rolls out 3,871 feet of thrills. And for star gazers, know that Sundance's location makes it a perfect spot to gaze at trillions of stars, it's a spectacular sight!
It's also fun to saddle up at Sundance Stables for a guided trail ride. Take a beginner ride to Elk Meadows and ride through wildflower-strewn fields and aspen groves or head off to Stewart Falls. Some trail rides include a yoga session with Mount Timpanogos towering in the background. At sunset there's a trail ride to look for deer, elk, moose and other area wildlife.
This is a great place to learn to cast a fly rod without getting wet at Fly-Casting Clinics. Then head out to the Provo River where there's an estimated 8,000 Rainbow and German brown trout per mile. A Utah fishing license is a must-have.
You can also channel your artist ability. Create your own memento of your Sundance experience when you take an art workshop. Turn nature's artistic colors into an acrylic, oil or watercolor painting or book a session to learn jewelry-making, drawing, candle-making, soap-making and pottery.
Or just enjoy the simplicity of walking around this peaceful, charming resort. The winding sidewalks take you through a beautiful natural landscape, a babbling brook and scenic views of the canyon and mountains. It's quite unusual and refreshing to be at a resort that uses all natural building materials and doesn't allow any construction higher than the treetops.
And, to be expected, the service at Sundance is exceptional and the food is excellent. Sundance Deli, near the general store, is the perfect place to grab sandwiches and everything you'll need for an outdoor picnic. There are many dining options for lunch at Sundance. All restaurants are as scenic inside as they are outside. Our favorite is the tasty Sunday brunch at the Foundry Grill, or joining friends for a drink at the rustic and historic Owl Bar. Serving upscale, seasonal mountain cuisine is the Tree Room Restaurant where they have a world class chef and is built around a 65-foot pine tree. The walls in the restaurant are filled with select Native American art from Redford's own private collection. This place is legendary, so make your reservations early.
Sundance is truly sensational as it was intentionally designed to create a community by uniting art, nature and recreation. No matter where you go in Sundance, you'll be touched by Redford's creativity and his love of the area where he so carefully 'developed a little and preserved a lot.'