State Rep. Kronda Thimesch, joined by State Rep. Frederick Frazier, filed legislation this week that would support law enforcement and district attorneys across Texas in their fight against fentanyl.
House Bill 1581 makes the delivery of a controlled substance causing serious bodily injury a second degree felony, and the delivery of a controlled substance causing death a first degree felony, according to a news release from Thimesch's office.
Current statute makes death or serious bodily injury only an enhancement to the charge of delivery of a controlled substance. The enhancement, and the charges that come along with it, are contingent on the amount of drugs present in the person's bloodstream at the time an autopsy is performed. HB 1581 creates a standalone charge and would create a clearer path for prosecutors to successfully press charges when fentanyl is a factor in an injury or death, the news release said.
"With the recent arrest of two dealers distributing fentanyl pills in Carrollton — actions which allegedly have caused death to three teens and injury to seven more — the need has never been more urgent," Thimesch said. "The State of Texas must provide statutory support to our local police and criminal court system to end this devastating crisis."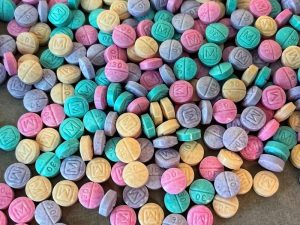 Last week, a federal affidavit was filed in U.S. District Court identifying a dangerous ring of drug distribution that infiltrated a Carrollton high school. Ten students overdosed and three died between September 2022 and February 2023 from pills containing fentanyl, a growing crisis.
"We need to give law enforcement and prosecutors the tools they need to put dangerous criminals behind bars," Frazier said. "Every day, Texans are dying from fentanyl-related overdoses. This bill helps us take on the cartels who are killing our children."
Thimesch represents House District 65, which covers a large section of southern Denton County including Highland Village, Double Oak, Bartonville, Copper Canyon, Lantana, Argyle, Denton, Justin, Northlake, and Lewisville. Frazier represents House District 61, which covers part of Collin County.
Fentanyl is a synthetic opioid that is 50 to 100 times stronger than morphine, per the Drug Enforcement Agency. It was initially developed for pain management treatment for cancer patients, anesthesia, etc. but has now made its way into the illicit drug world disguised as legitimate prescription drugs, other illegal drugs, and even candy. Like other opioid analgesics, fentanyl produces effects such as relaxation, euphoria, pain relief, sedation, confusion, drowsiness, dizziness, nausea and vomiting, urinary retention, pupillary constriction, and respiratory depression. And it kills swiftly.
State and federal officials are warning families everywhere — including in southern Denton County — that fentanyl use, overdoses, and even deaths are in every suburb, HOA, gated community, and school bathroom. Last year, the Flower Mound Police Department assisted in a huge fentanyl and weapons bust.