Long before he knew what his successful company, Edit This, could be, fun-loving local writer and author Steve Gamel was focused on doing what he loved above all else — telling stories.
After all, Gamel's love for the written word and larger-than-life storytelling goes back decades, all the way to his college days when he initially dreamed of one day being on ESPN. He ultimately went the newspaper route as a high school sportswriter for the Lewisville News in the late 1990s and, as he puts it, "had a field day" for the next 25 years.
But his passion for storytelling always went beyond writing about sports for various newspapers and magazines.
He wanted to experience everything the writing life had to offer.
"I love writing about sports. But I didn't want to be a one-trick pony," Gamel said. He and his wife, Leslie, live in Denton with their sons, Christian (15) and Jackson (11). "I jumped at the chance to write everything from movie reviews to features on local businesses, fun stories about local families — even my own family — as well as resumes, blogs, and website content. I even helped my friends edit their college papers. I wanted to write all of it, and I believe that mindset helped me become a better writer, editor, and storyteller."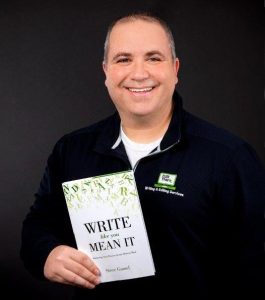 Gamel's passion for storytelling was and still is as strong as ever. And now, he has a dream career at Edit This, where he helps individuals and businesses tell their stories in ways they never imagined. Having ventured out on his own in 2014 with nothing more than a laptop, one client, and a dream, Edit This is now one of the more reputable, comprehensive, and sought-after writing and editing services in southern Denton County and beyond.
His services range from writing blogs and website copy for businesses to resume writing, press releases, editing manuscripts, creative writing, and much more. He also still writes for several area publications.
No matter how big or small the project, and no matter how animated the characters might be, Gamel wants to be the guy everyone turns to for attention-grabbing content. It doesn't matter if it's an individual, small-business owner, large corporation, student, friend, or fellow writer.
"So many people don't realize how good of a story they have on their hands, either because they aren't sure how to tell it properly on their own or because they don't think anyone will find it interesting," Gamel said. "But everyone has a story — and those stories are worth writing for all to see. Maybe it's an uplifting story of a local business owner or nonprofit and the 'why' behind what they do. It could be a feel-good piece about a family that used a personal tragedy to help others. It could also be something as simple as a short story that makes people laugh.
"I have so many people who rely on me to help them tell their stories. I thank God every day for that honor."
Edit This has been named Best Writing and Editing Service by "Best of Denton County" voters in each of the past six years. A few years ago, Gamel was a finalist for Entrepreneur of the Year through the Lewisville Area Chamber of Commerce. In 2021, Gamel published his first book, "Write Like You Mean It: Mastering Your Passion for the Written Word." His book is loaded with tips, tricks, and life hacks meant to inspire writers of all experience levels and professional pursuits — especially the next generation of writers.
Nine years after starting Edit This, it's clear that Gamel's love for storytelling has paid off in spades.
"I'm proud that I took the leap of faith and believed in myself. And I'm thankful to have had my family, friends, clients, and fellow writers by my side every step of the way," he said. "I love telling stories for a living. And thankfully, everyone I've run into over the years has plenty more where that came from."
To learn more about Edit This and Gamel's book, visit www.editthisllc.com or linktr.ee/SteveGamel.
(Sponsored content)