Cloud 9 Salon & Spa broke ground Monday on its new home in Bartonville.
"The long journey with many obstacles including design changes and selling of the Flower Mound location have cleared and the excitement is off the charts," Owner Kim Cloud said.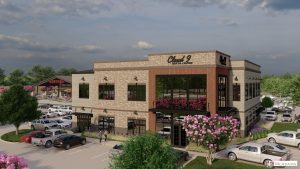 Cloud 9 will fill the second story of the nearly 15,000-square-foot two-story building, and Cloud said she's looking for up to three retail tenants for the first floor. The new building — Cloud described as "warehouse glam style" — will be located adjacent to Marty B's restaurant on FM 407 in Bartonville.
"We see a big need in this area for a place for someone to buy a gift, an outfit, home furnishings or maybe some boots," Cloud said. "Those are the kinds of businesses were hoping to bring in."
Cloud said construction is expected to be completed by the end of the year.
Cloud 9 was located in Flower Mound, near FM 407 and Morriss Road, but Cloud said she saw great potential for her business to move west and be able to reach residents in Robson Ranch and Northlake, while staying within close proximity of Flower Mound, Highland Village and Lantana. Cloud 9 is currently operating in a small short-term space on FM 407 in Lantana until it can move in to the new building.
"We're so excited, it's been quite the journey and the blessings are just beginning," Cloud said.