A fire chief and several new commissioners were sworn in Wednesday night to lead the Denton County Emergency Services District No. 1, formerly the Argyle Fire District.
Ricky Vaughan was sworn in as the district's new fire chief during a special ceremony at ESD Station 511. Vaughan had served in Carrollton Fire Rescue since 1995 before taking the reins at the ESD.
"We are excited to have Chief Vaughan guide our fire department and are looking forward to continuing to provide the highest level of service to our communities under his leadership," the ESD said in a statement.
Vaughan's selection was announced in August 2022. He was to start immediately after the longtime fire chief, Mac Hohenberger, retired at the end of 2022. But in November, Hohenberger was indicted by a federal grand jury and arrested by the FBI after he allegedly stole nearly $500,000 from the district's pension funds.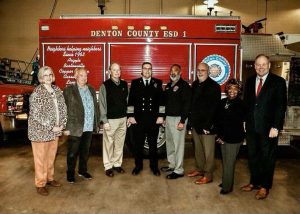 In the wake of Hohenberger's arrest, there have been additional changes to the ESD Board of Directors. Three new board members — Sheldon Gilbert, Richard Merrill and Keith Mashburn — were appointed Sunday by the Denton County Commissioners Court and sworn in on Wednesday. They replace Jon Donahue, Steve Harris and James Price.
Merrill, of Argyle, has an extensive background in accounting, auditing and finance. Mashburn has 30 years experience as a firefighter, investigator and battalion chief, and he also has plenty of experience in local government, with years served as mayor, City Council member and planning commissioner for the city of Simi Valley, California. Gilbert, of Lantana, served in the Alameda County Fire Department for 30 years, the last six years as fire chief.
Cliff Travis was re-appointed to the board, and Jim Carter also remains on the board.
After the swearing-in ceremony, the board members elected Gilbert as Board President and Keith Mashburn as Vice President. Merrill was named Board Treasurer and Travis is now the Assistant Treasurer, and Carter will now serve as Secretary.