Visit a hospital for a medical emergency and it may take up to eight hours to be seen and another six to diagnose the issue. Stop by an urgent care before 7 a.m. or after 7 p.m. and it likely will be closed and when open can only handle minor medical conditions.
Go to SignatureCare Emergency Center in Lewisville any day of the week and you will wait no more than 10 minutes and have a decision within two hours on whether you can go home or need escalated care.
The facility, located at Main Street (FM 1171) and Garden Ridge Boulevard, serves patients in southern Denton County and is among 21 locations in Texas. It opened in February 2020, just a few weeks before the start of the COVID-19 pandemic.
"This is an emergency room. We can do anything the main hospital emergency room does. We can handle everything from stitches to seizures," said Dr. Mostaque Chowdhury, a board certified emergency medical physician and medical director in Lewisville. "We can stabilize the patient and if they need to go to the hospital we can send them there or if the patient doesn't need hospital admission they can go home. In between cases if they just need an overnight stay we can keep them 23 hours for observation and care, including IV interventions and pain management."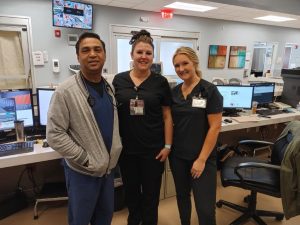 One recent day, Chowdhury assisted a patient who came in fatigued and tired with excessive urination and increased thirst. A finger stick produced numbers so high they could not be read indicating that the patient had diabetes and needed immediate intervention, including fluids and insulin. Chowdhury was able to quickly diagnose the patient with Diabetic Ketoacidosis or DKA and provide life-saving interventions.
"I stabilized this patient and then talked to a local hospital and she's going to their ICU," Chowdhury said. "Within 35 minutes I had all the reports and within an hour she was admitted into an ICU unit. This is our goal to avoid the long and potentially life threatening wait at flagship hospital ERs; stabilize, treat and when required transfer directly for further care."
Chowdhury is among seven doctors at SignatureCare. They are joined by three licensed nurses, two ER technicians, one radiologic technician and experienced support staff daily. In addition to issues like DKA, they can properly diagnose and stabilize patients suffering heart attacks, stroke and accident traumas.
Unlike most urgent cares, SignatureCare is equipped with a CT scan and ultrasound machine, a COLA-certified laboratory, plus X-ray on-site.
What else separates SignatureCare from all other freestanding facilities that have opened in recent years? Chowdhury says it starts with the name.
"We provide signature service," he said. "Obviously, everyone wants to give the best care to the patient and every doctor is trying to give their highest level of care. We also do the same but go above and beyond by personalizing care to our patients.
"Our concern for our patients doesn't just end at the end of a visit to our emergency room. After we treat patients we call them within 48 hours to see how they are doing and ensure they are receiving follow up care with their providers. Our care is so signature that if you look at Google right now we have 1,200-plus people giving us a 4.8 review. That's within only two years so we must be doing something good. Don't take our word for it. Take the word of our patients."
Patients have traveled from as far away as Garland and even Ardmore, Oklahoma, to receive care from this facility.
"They passed by so many emergency rooms and decided to come here," Chowdhury said.
SignatureCare builds relationships with nearby doctors' offices and pharmacies to refer patients for follow up care that is efficient and seamless. Plus, not only will you be seen faster, but costs are considerably lower than at traditional hospitals. Signature Care works with private insurance, Medicare, Tricare East, and also handles worker's compensation and self-pay cases.
"Our No. 1 way people find out about us is word of mouth – family and friends," Chowdhury said. "We are here for the community. We hope nobody has an emergency but if you find yourself in an emergency situation, please come here irrespective of your ability to pay. We are here to serve. Give us an opportunity and we'd be honored to serve you in the Signature caring way during your time of need."
Learn more at www.ercare24.com.
(Sponsored Content)