Marty B's Coffee Co. opened its drive-thru on Thursday morning.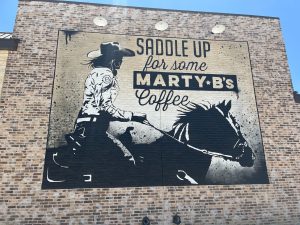 The public didn't know the drive-thru was opening Thursday until the shop's Facebook page announced it about 7:30 a.m., and there was a continuous flow of drive-thru traffic throughout much of the day. The new coffee shop is located next to Marty B's, 2664 FM 407 East. Owner Marty Bryan said the shop will remain drive-thru-only for the next couple weeks and will be open from 6 a.m. to 6 p.m.
"Once we have a good handle on food production, we'll open up the inside," Bryan said.
The shop serves a variety of coffees from a new Marty B's signature coffee roast, along with espresso drinks, smoothies, pastries, scratch-made desserts, breakfast tacos, fried chicken biscuits, smoked ham sandwiches with french toast bread and much more. All of the food is made in-house, and one of the menu's highlights is a lavender white mocha. Some baked goods are the recipes of Bryan's friends, including Marla Erwin's cookies and James Gatzemeier's muffin.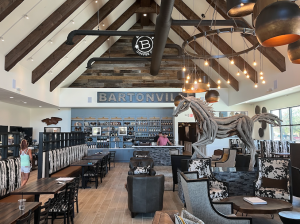 The shop features a large patio with a wood-burning fireplace, and inside, guests will have plenty of tables, booths and comfortable seating to choose from. It was designed to feel like the lobby of a 5-star hotel, Bryan said, that also "captures the spirit of Texas" with its design by Melissa McKean, including a large horse statue, cowboy paintings and portraits of legends of Texas history. There's a quiet conference room, with a TV and large table, available for rent by the hour.
"This is such a special place," Bryan said. "I wanted to do coffee in a different way, to present a wholesome approach to coffee and the environment we create, products we serve and people we hire."
Bryan said he hopes the shop will serve as a nice meeting place for people looking for a cup of coffee, coffee cocktail, glass of wine or charcuterie board in the afternoons and evenings. The entire space could also be rented out for large events.
"We want to have spaces where people can come connect with others and celebrate life's special moments in a wholesome setting," he said. "The food we provide and the people we hire is what separates us from everybody else."
Bryan's daughter, McKaley, graduated from the University of Arkansas last year with a degree in hospitality management and a passion for coffee. She learned about the industry, especially about what to look for in a coffee bean — and has been leading much of the shop's management, coffee selection, onboarding and more. She said she's "eager to build this up." Marty called the experience of opening the coffee shop with his daughter as "very rewarding."
Click here for more information.