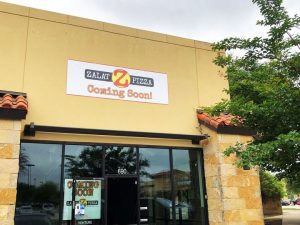 A new pizza restaurant is coming soon to Flower Mound.
Located at 5801 Long Prairie Road, Suite 690, in the Robertson's Creek Shopping Center, Zalat Pizza will serve up a range of specialty pies, including the "Loaded Notato," "Nashville Hot Chicken & Pickles," "Pho Shizzle" and more.
Zalat Pizza, which has more than 10 other locations in North Texas, makes their dough in-house while roasting Roma tomatoes and adding fresh basil to make their pizza sauce, according to a news release from the town of Flower Mound.
They pride themselves on taste-testing their pizzas hot, room temperature, cold from the fridge, and reheated two days later – all to ensure the quality remains consistent.
An opening date has not yet been announced. For more information, go to https://zalatpizza.com/