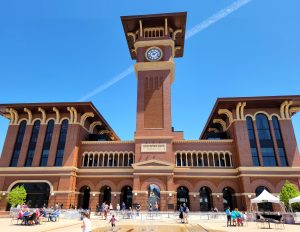 A grand opening ceremony for the new Grapevine Main Station is set for Saturday.
"Grapevine Main Station is a majestic multi-million-dollar public/private sector transit-oriented development project located at the intersection of Main Street and Dallas Road," according to a news release from the Grapevine Convention & Visitors Bureau.
The project consists of the expansive 38,000-square-foot Peace Plaza, 42,000-square-foot Rail Station featuring Harvest Hall — a European-style food hall with seven kitchens, as well as craft coffee drinks and cocktails — 150-foot-tall Observation Tower and new home of the Grapevine Visitor Information Center, all connected to Hotel Vin, a six-story, 120-room Marriott Autograph Collection property and a 552-space parking garage.
At 11 a.m. Saturday, Grapevine Mayor William D. Tate will lead the building dedication ceremony, which will be followed by a champagne toast in a commemorative champagne flute for community members and visitors aged 21+. After the toast and ribbon cutting, Decades, DFW's Premier Party Band, will perform on Peace Plaza. The 150-foot Observation Tower will also open for the first time for visitors to take in the expansive 360 panoramic views of Historic Grapevine and the DFW area. The first 250 attendees will receive commemorative items, including the keepsake champagne flute.