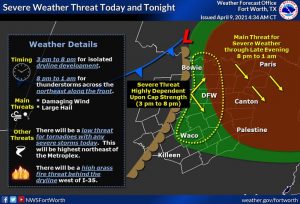 The National Weather Service is warning residents in Denton County and across North Texas that there's a chance for severe weather with damaging wind and large hail Friday afternoon and evening.
Thunderstorms may develop along a dryline this afternoon that could affect a large area, including the Dallas-Fort Worth Metroplex, "but it will depend on the strength of a capping inversion that is expected to be in place," according to the weather service. If storms develop, they will likely be severe with large hail and damaging wind between 3-8 p.m. An isolated tornado would also be possible.
More severe weather is expected to develop from 8 p.m. to 1 a.m. on the eastern side of North Texas, and Denton County is on the edge of the projected map for that severe weather.
Follow us on Twitter for frequent weather updates. See the latest forecast here.