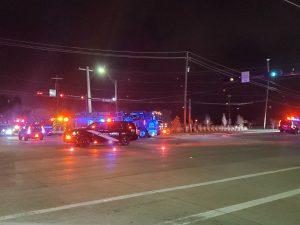 One person was hospitalized Tuesday night after their vehicle was submerged in a pond immediately after colliding with another vehicle in Flower Mound.
A black Honda SUV was traveling west on Spinks Road and ran a red light at the Gerault Road intersection, striking a black Hyundai SUV that was headed south on Gerault, according to a Flower Mound Police Department spokesman. The Honda kept going over the curb and sidewalk and into a newly-installed runoff pond near the intersection.
Before first responders arrived, a passerby stopped and and jumped into the pond and helped the man who was driving the Honda get out of the vehicle and out of the pond, according to police. He was transported to a nearby hospital with moderate injuries, while the woman who was driving the Hyundai SUV was transported for minor injuries. The intersection was closed for about three hours and the Honda was removed from the pond.
"Due to circumstances surrounding the crash and evidence found in the vehicle, an intoxication investigation has been opened into the crash," the police spokesman said.