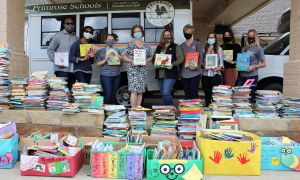 Seven local Primrose Schools recently joined forces to donate more than 2,000 books to the local nonprofit Book Drive for Kids.
When the franchise owners of Primrose Schools of NE Flower Mound, Old Orchard, Lantana, Highland Village, Wellington, Hickory Creek and North Lewisville heard about the organization, they wanted to "make a big impact" together, according to a news release from Primrose Schools, and families from the seven schools donated more than 2,000 books. Book Drive for Kids is on a mission to help create a culture of literacy by providing books to disadvantaged children for independent reading. They do this by hosting free book fairs in elementary schools throughout DFW. Book Drive for Kids selects sites that serve a population designated as at least 70% economically- disadvantaged and often includes 30-50% English Language Learners.
Primrose's annual book donation drive is part of Og's Bountiful Books, a Primrose Schools reading program designed to encourage parents and students to read together at home and share favorite stories with classmates and children who do not have easy access to books. The reading program is part of Primrose Schools' curriculum, which balances academics, play and character development in the classroom.