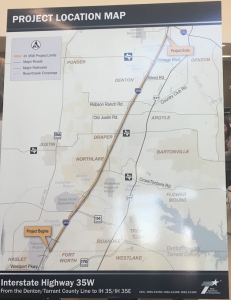 The Texas Department of Transportation is inviting residents' input on its plan to improve a large second of I-35W in southern Denton County.
The proposed improvements include widening the interstate from four lanes to six lanes on the 17-mile stretch of I-35W from the I-35 split in Denton south to the Tarrant County line, according to a TxDOT news release.
Any environmental documentation or studies, maps and drawings showing the project location and design, tentative construction schedules, and other information regarding the proposed project are available here. Any interested person may submit a written request for a public hearing on this project, and written comments from the public regarding the proposed project are also requested. Written hearing requests and comments may be submitted by mail to the TxDOT Dallas District Office, 4777 E. Highway 80, Mesquite, TX 75150, or by email to [email protected] All hearing requests and comments must be received on or before March 8.