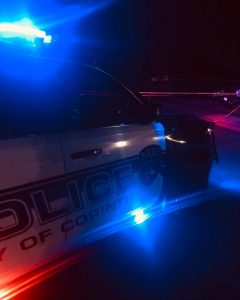 A suspect was hospitalized Tuesday night and a woman was also injured in a shooting with Corinth police officers.
At 8:20 p.m., Corinth police were called about a reckless driver in a Ford F-150 on the I-35E service road near Swisher Road, according to a news release from the Corinth Police Department. The suspect vehicle was located at a home in the 2600 block of Nash Drive. Officers approached a man at the home, and the man was immediately confrontational, according to police. Officers tried to calm him and de-escalate the situation, but they were unsuccessful, so they attempted to use a less lethal device on him, but it didn't work.
The man had a holster on his waist, and he then pulled out a handgun and fired it at the officers, and they returned fire and he was hit with a bullet. The officers then provided medical assistance until paramedics arrived and transported him to a hospital with unspecified injuries, according to police. A woman was subsequently injured during the shooting and taken to the hospital with minor injuries. No officers were injured, and the Texas Rangers are investigating the shooting. No more information was immediately available.