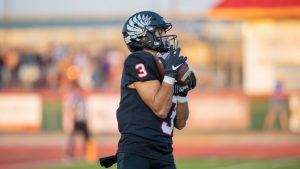 Argyle made it two in a row on Friday night with an 11-point victory over Texarkana Pleasant Grove.
The Eagles (2-0, 0-0) took a 21-14 lead into the half and never looked back, with the final score 52-41.
CJ Rogers passed for 252 yards and five touchdowns.
Cole Kirkpatrick finished the game with 152 yards receiving and three touchdown catches, and Braden Baker rushed for 120 yards.
Argyle now has 48 consecutive regular season wins going back to 2015.
The Eagles will play Celina at 7:30 p.m. on Sept. 11 at Bobcat Stadium in Celina.