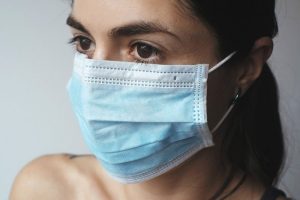 The Denton City Council on Friday adopted an order that will require the use of face masks in all businesses and nonprofits that provide goods or services directly to the public.
Denton's face mask requirement does not apply if it poses a significant mental or physical health risk to the individual, according to a press release from the city. It also does not apply when an individual is consuming a food or beverage or receiving a service where the wearing of a mask would impair the process.
Denton businesses have until Wednesday, July 1, to establish policies mandating face masks be worn and may also include other measures, such as temperature checks or health screenings. The order will continue through Tuesday, August 4, or until otherwise acted upon by the Council.
For public areas in the city where the order is not required, all people 10 years or older are strongly urged to wear a face mask where it is difficult to keep six feet away from others or working in areas that involve proximity with coworkers, according to city officials.
Outdoor gatherings in excess of 100 people are prohibited unless specifically permitted by Executive Order GA-28, signed by Governor Abbott on June 26, 2020.
Beginning on Thursday, July 2, residents can report concerns regarding potential violations of this order through the Engage Denton mobile application at www.engagedenton.com, or by calling and leaving a message at 940-349-8228.
"Regarding enforcement, the goal is education and safety—NOT tickets and fines," said council member Jesse Davis.  "I would rather we had 1,000 conversations with business owners than write a single ticket. Frankly, I would be surprised and disappointed if a single ticket was written."
A copy of the order is available here.
We've received a number of questions about the Face Covering Order, so we've developed an FAQ to help you find the answers you need. You can view it here: https://t.co/uC3ajtQuIb. pic.twitter.com/2S6Znu2sCE

— City of Denton, TX (@cityofdentontx) June 29, 2020
Others may follow
The Centers for Disease Control and Prevention has recommended wearing masks or cloth face coverings in public, especially in areas of significant community-based transmission such as North Texas.
In recent days, Dallas and Tarrant Counties began requiring masks or face coverings in all businesses or outdoor gatherings of more than 100 people. Governor Abbott has not issued a statewide mandate for the use of masks or facial coverings but did say local mayors and county judges have the right to issue such mandates.
Currently no other Denton County town or city, along with the county itself, has face mask mandates.
However, the city of Lewisville is launching the "Mask Up Lewisville" awareness campaign to encourage residents to wear a mask or facial covering while in public as a way to help slow the spread of COVID-19.
The campaign, which begins Monday, June 29, consists of social media posts and posters at various City facilities featuring Lewisville City Council members, the police chief, and the fire chief all wearing masks with the tagline "My mask protects you; Your mask protects me."