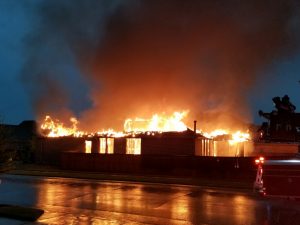 Local firefighters responded early Tuesday morning to several structure fires and high water rescues in southern Denton County
There were a total of 14 calls to the Argyle Fire District in a short period of time due to lightning strikes, high water rescues and medical calls.
A home in the 1500 block of Haverford Lane in Lantana was seen fully ablaze around 6 a.m. Tuesday, and there was another working house fire around the same time in the 8500 block of Canyon Crossing in Lantana. Both homes were a total loss, and donations can be made here to help the displaced families.
The fires are believed to have been caused by lightning. Heavy thunderstorms with copious amounts of lightning moved through the area from around 4 to 7 a.m.
Argyle also responded to lightning strikes at homes in the 500 block of Wolf Run in Bartonville and the 7700 block of Willow Ridge Drive in Northlake.
Brandon Barth, a Flower Mound Fire Department spokesman, said that at 6:30 a.m., FMFD responded to a house fire in the 3500 block of Gallop Court. On arrival, firefighters found the second floor, attic and roof fully involved. Firefighters rescued a 20-year-old man who was trapped in the house. He was treated on scene for smoke inhalation and released. The house was destroyed by the fire, the cause of which is under investigation but lightning is a possible contributing factor.
FMFD also responded to multiple water rescues early Tuesday morning at the intersections of Bridlewood/West Windsor; Kings Road/Lusk Lane; and westbound FM 1171/Hwy 377. Barth said that at the Lusk/Kings intersection, one vehicle became stuck in the high water and one vehicle was swept off the road. FMFD first responders rescued the occupants of both vehicles.
The Highland Village Fire Department and surrounding departments worked a residential fire on Malibu Drive.  The 300 block of Clearwater Drive and North Edgewater Drive are closed due to high water until further notice.
At least two roads in Argyle, North Gibbons and Hickory Hill, were closed due to flooding around morning rush hour.
"This morning proved to be difficult due to numerous calls working at the same time and mutual aid departments responding to calls in their cities for calls as well," said Michael Lugo, Argyle Assistant Fire Chief, in a press release. "Ultimately all of the calls were handled and no loss of life resulted from any of the calls."
FMFD was busy this morning as the storms rolled through. Crews responded to 22 calls this morning between 5:30-9:30. This included 4 mutual aid structure fires, one structure fire in Town where crews also rescued an occupant of the home, and a swift water rescue call. pic.twitter.com/T4cvVCSgfi

— FlowerMoundFD (@FlowerMoundFD) June 23, 2020
1500 block of Haverford Ln. in Lantana. pic.twitter.com/c9J7EmY0SB

— CrossTimbersGazette (@ctgdentoncounty) June 23, 2020
8500 block of Canyon Crossing in Lantana. pic.twitter.com/cV9WzJixbX

— CrossTimbersGazette (@ctgdentoncounty) June 23, 2020