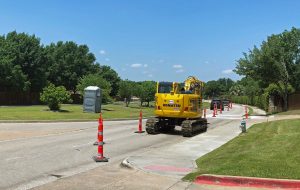 Due to decreased traffic related to the pandemic and the early school closures, the following road projects in Flower Mound were able to be completed early or are ahead of schedule, according to town officials.
𝗖𝗼𝗺𝗽𝗹𝗲𝘁𝗲𝗱
▪️ Installation and activation of the traffic signal at FM 2499 and Silveron Boulevard
▪️ Scheduled annual maintenance on seven traffic signals at busy intersections
▪️ Skillern Road concrete panel replacement
▪️ Morriss Road concrete panel replacements – the contractor was permitted to begin the last phase of this project, which is in front of Forestwood Middle School, early and it was completed 40 days ahead of schedule. Sidewalk work is still ongoing in this area.
𝗔𝗵𝗲𝗮𝗱 𝗼𝗳 𝗦𝗰𝗵𝗲𝗱𝘂𝗹𝗲
▪️ Peters Colony Boulevard roundabout – the contractor was allowed to begin work 30 days ahead of schedule
▪️ Morriss Road 20-inch water line replacement – the contractor was able to work extended hours due to reduced traffic and school closures, which has saved 20 days of construction so far.