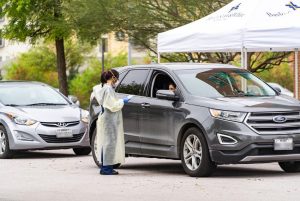 Denton County Public Health will soon begin providing COVID-19 drive-thru testing for Denton County residents who pre-register and have had coronavirus symptoms in the last seven days.
"Many community members have received testing for COVID-19 at their primary care providers or urgent care centers," saidDr. Matt Richardson, Director of DCPH. "However, testing supplies have been limited and sometimes inaccessible. We are thankful for new partnerships that allow us to provide expanded drive-thru testing for community members who are ill and unable to locate testing."
The first drive-thru testing center will be held from 8 a.m. to noon on Saturday at a DCPH clinic, 535 South Loop 288 in Denton. To be eligible for the drive-thru testing, you must have recently had COVID-19 symptoms, which include:
• Fever
• Cough
• Shortness of breath or difficulty breathing
• Chills
• Repeated shaking with chills
• Muscle pain
• Headache
• Sore throat
• Loss of taste or smell
• Abdominal pain
• Nausea, vomiting or diarrhea
If you meet the eligibility criteria above, pre-register by calling 940-349-2585 Monday-Friday between 8 a.m. to 5 p.m. DCPH testing centers currently have a maximum capacity of 200 tests per day, based on available personnel, testing supplies and lab capacity. Those who are not pre-registered will not receive testing. DCPH does not offer antibody testing.
DCPH is planning additional drive-thru testing centers on an ongoing basis, with additional dates, times and locations to better provide expanded testing.
To learn more about DCPH COVID-19 drive-thru testing centers, visit DentonCounty.gov/COVID19testing. You can also get tested for COVID-19 by calling your doctor or visiting other testing locations near you. Find other locations at https://www.dshs.state.tx.us/coronavirus/testing.aspx