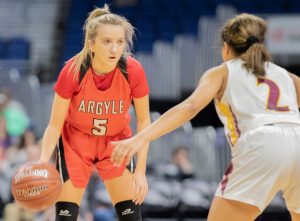 by Jaclyn Harris, The Talon News
The Argyle Lady Eagles took second place in the UIL state tournament on Saturday night with a 40-39 loss in overtime to the Fairfield Lady Eagles.
"This season has been incredible," senior guard Rhyle McKinney said. "Our bond this year has been the best it's ever been from the beginning to the end. Just after this game, we're all here for each other."
Argyle gained a quick lead in the first quarter, with McKinney sinking the first shot and going on to lead the team in scoring with a total of 25 points. The quarter ended at 16-3 with Argyle ahead.
"I think we were just in that fine line of being up 14 points and asking 'do you keep attacking and making layups,'" Head Coach Chance Westmoreland said. "I thought we did a pretty good job. We didn't turn over a whole lot and we were just in that situation."
Fairfield attempted to close the gap beginning in the second quarter, but Argyle kept the lead with a score of 25-11 at the half.
"We played a great first half and at halftime we talked about it," Westmoreland said. "We talked about the score being zero to zero but they came out with a one-two-two and we quit attacking."
The third quarter marked the beginning of a comeback by Fairfield, but three missed free throws and a layup by McKinney allowed Argyle to maintain their lead at 27-22.
"We thought if we could win the third quarter we'd have a good chance to win," Westmoreland said. "They made some plays at the end and never gave up and their defense really turned it up in the second half."
With two seconds left in the fourth quarter, Fairfield's McKinna Brackens made a layup that tied up the game and led the teams into overtime with a score of 34-34.
"I thought the first half our man-to-man defense was so good that if we could keep doing that we could win," Westmoreland said. "They made adjustments too. They kept driving and started posting 21 up, got us in foul trouble and that helped them."
In overtime, Fairfield led with a layup and free throw shot by Jada Clark, after which Argyle did not pull ahead, ultimately winning the game with a score of 40-39.
"The first two [free throws in the fourth quarter] went in and I didn't make the second one and I figured it would happen that it would go off the side and I would try to get it," McKinney said. "I just wasn't able to put it in. It was a hard loss for me, being my last game and all but I couldn't have asked for a better season."
The game was a contrast to when the team took on the Canyon Lady Eagles at the region tournament, when Argyle came back towards the end of the game.
"Against Canyon, we had a one-point lead with three and a half minutes left and we held the ball," Westmoreland said. "Stalled it, took the air out of it, and they fouled us with 55 seconds left. Rhyle makes both free throws and we played the free throws game from then on out and got the win. We were trying to get the last shot, but hats off to them. I should have made some adjustments"
Following the loss, Argyle ended the season with a final record of 33-8.  It also marked the end of a 41-game playoff winning streak.
"For three years we shouldn't have won," Westmoreland said. "Nobody picked us to and everybody in that room is a champion. They've got gold medals and they're champions. So that's what we're going to be defined as."
Earning second place ended the Lady Eagle's streak of five-consecutive state championship titles.
"I've been in this situation and I know how hard it can be," Westmoreland said. "We're not going to be defined by this game because they did what I asked. Even at the end of regulation I told them, we were up two points, I said. We're not going to be defined by this loss. It hurts, It's not fun, but my goodness, what a three-year ride we've been on."
The Lady Eagles did not achieve their sixth state title but did accomplish one goal, according to McKinney: being together.
"This season has been incredible," McKinney said. "Our bond this year has been the best it's ever been from the beginning to the end. Throughout this season our motto, we've been together, and our coaching staff, trainers, and managers, everybody, we've all done it together. We're going to take this loss together. It was a great season."
Argyle Eagles take 2nd place to the Fairfield Eagles in the state championship game with a final score of 40-39. pic.twitter.com/ONEyt5Ahzd

— The Talon News (@TheTalonNews) March 8, 2020