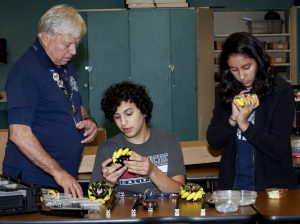 There's a group of Flower Mound High School students who, until recently, was more famous worldwide than in its hometown.
Members of the FMHS Technology Club were honored at the Flower Mound Town Council meeting in August, because they won not one, but two, world robotics championships in Houston and Louisville, Kentucky, in April. That followed various district, regional and state titles earlier in the 2018-19 school year.
Mayor Steve Dixon made the official presentation to team members plus teacher and school sponsor Ralph Szydlik, who has coached the club since 2002.
He led the program to its first world title in 2004 and has been quietly succeeding ever since, in large part due to his daily motto: "Every student, every challenge, every day," as club booster president Keshvar Buhariwalla later recited.
"We're a very, very quiet team," Szydlik said. "We're known everywhere in the world, except in Flower Mound."
Last year, nearly 130 students competed, with those numbers nearing 150, as the new season got underway in September. Each year, students must plan, build and program their robots to work properly when it counts based on predetermined themes.
"We tend to gravitate to their enthusiasm," Szydlik said. "They want to do this and we'll make it available."
Last year was the first time the University Interscholastic League (UIL) designated robotics as an official contest with qualifier events run by the FIRST (For the Inspiration and Recognition of Science and Technology) and BEST (Boosting Engineering, Science and Technology) organizations. This year's UIL State Championship and Texas BEST Championship will be Dec. 5-7 in Frisco.
Organized robotics have been around for 30 years with the birth of FIRST by Dean Kamen in 1989.
There are four levels of STEM-related (Science, Technology, Engineering and Math) programs: VEX Robotics; FIRST Robotics Competition (FRC); FIRST Tech Challenge (FTC), for smaller robots; and, the Technology Students Association (TSA).
Each year the national organizations announce the new games and the teams build robots to match those specific criteria. Just like in athletics, teams compete in– and qualify from– district to region to state levels and, eventually, worlds.
One of Flower Mound's VEX squads captured the World's High School Robotics Skills Division in Louisville, after earning three state titles in 2018.
The Flower Mound FRC team, known as Jaguar Robotics, matched the World title by winning their Hopper Division in Houston.
A big part of the VEX success was senior Henry Liu, who has been a multiple-time World Champion. He is now a freshman at the University of Texas in Austin.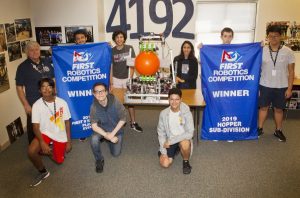 The success of FMHS's program has spread to other schools, like McKamy Middle School and local elementary schools, creating a feeder program for the future.
Thanks to a number of corporate grants– and a summer camp that raised $18,000– the club is now able to give back to the community, including what's called the FIRST Lego League for elementary school students. They also welcome teams into the lab from other LISD schools and beyond.
"We are thinking now, if we can get the students involved at an earlier age, by the time they get to the high school level, they'll be ready to go; they'll have been in the system," Buhariwalla said. "Now, because of our success, we're trying to do outreach. Our kids teach programming to about eight or nine teams from the Metroplex."
Parent mentors also have been a big key to the program's success, especially Amy and Guido Climer, who started when their now college-age son, Samuel, was in the program– and have continued with freshman son, Nathan.
The program continues to attract parents after their child's graduation.
David Meeks, who had a son in the program ten years ago, provided key technical leadership by helping students build the robot and teaching engineering concepts.
"Our parent mentors' drive and dedication through technology, especially with the FIRST program, has helped us succeed," said Buhariwalla, who has had three sons in the program– Zaal and Cyrus, both now at Texas A&M University, as well as Hormuz, a sophomore at FMHS.
People like Curtis Preston, an engineer at Lockheed Martin, have helped the club secure grants from entities like Lockheed, Texas Workforce Commission, FIRST in Texas and others.
Parent donations also defray some of the costs, which can be as much as $4,000-$5,000 to enter robots in events.
Students also contribute to the effort by hosting a summer robotics camp, which is their main fundraiser. For many years, funding was an issue, but– thanks to the recent successes– more donations and grants have been received.
Szydlik donates his time, not only to the school year program, but the summer camps, too. According to Buhariwalla, that totals nearly 1,000 hours annually.
Szydlik likes that his students engage in "gracious professionalism," such as offering an axle to an opponent that has broken one of theirs. The Jaguars also form alliances with world partner robots to compete.
This year, FMHS has eight teams of FTC robots to complement the larger FRC robot.
For the second year, there is a separate girls' team trying to attract female students into STEM activities and careers. FMHS is also partnering with Plano schools to form a new FTC league with about 30 teams.
While Szydlik is thrilled that UIL now conducts a robotics state competition, he would also like it to be accepted as a sport, with college scholarships and, eventually, professional leagues.
"Just like athletic teams have offensive and defensive players of the year, so do we," he said. "Just like other sports keep statistics, so do we. And, robotics is the only sport where everyone can turn pro overnight."