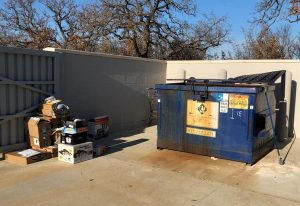 Bartonville police officers have returned nearly all the Amazon packages that were intended for Lantana homes but wound up in a local dumpster instead.
Twenty-three packages were found Saturday in a dumpster behind a Bartonville business, according to a news release from the Bartonville Police Department. All the packages had Amazon labels with addresses from Lantana. They had all been opened, and most of them were empty but some of them still contained new Amazon merchandise.
Bartonville police officers have returned 21 of the packages and contacted Amazon. A representative took the remaining packages to return them to the rightful owner. Police and Amazon are still working Tuesday to determine how the packages ended up in the dumpster and whether the suspect(s) were porch pirates, a delivery driver or someone else.
If you live in Lantana and are missing packages, contact Amazon and the Denton County Sheriff's Office non-emergency line, 940-349-1600, option 9.