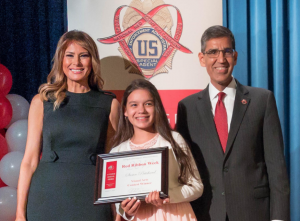 Two local siblings each traveled to Washington D.C. this fall to be recognized in a national art contest and meet First Lady Melania Trump.
Susan Pritchard, a seventh grade student at Harpool Middle School, and her older brother Sebastian Pritchard, a freshman at Guyer High school, were recognized in the Drug Enforcement Agency's Visual Arts Contest and Community Drug Prevention Awards, according to a news release from Denton ISD.
The event was held as part of the DEA's National Red Ribbon Rally to celebrate the kickoff of the 2019 National Red Ribbon Drug-Free campaign. Susan was the overall winner in the Bookmark category, middle school division, while Sebastian was recognized as Honorable Mention in the same category, high school division.
The First Lady was the guest speaker at the event held at DEA Headquarters, where she encouraged the youth to live a drug-free life. She then participated in the awards ceremony as she congratulated each winner and presented them with their award.