By State Representative Tan Parker
Nestled in the Texas House of Representatives inside the historic state Capitol this time of year is one of the most magnificent Christmas trees. This tree towers towards the ceiling, and the evergreen branches are carefully wrapped with thousands of twinkling lights and span in a welcoming fashion to countless visitors. Yet beyond the beauty of this tree marks something very unique for our state – 150 ornaments from each Texas House District to make the decorating tradition incredibly meaningful.
Prior to the holiday season, each Texas House member is given a clear, glass ornament with the ability to invite someone from their constituency to decorate it. The inspiration and imagination from each of the 150 districts from around Texas is then placed on the annual Texas House Christmas tree. The creativity Texans bring to these ornaments is incredible, and I always admire not just the artwork but also the stories they tell.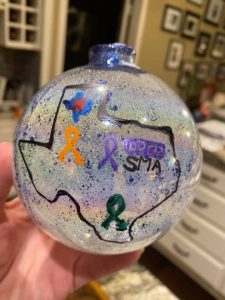 Many depict scenes unique to Texas, such as stars and horses, and others honor those who have shaped our great state such as veterans, teachers, and first responders, to name just a few. Previously, I have been honored to have our district represented through the hearts of individuals like Sadie Keller of Lantana who is a warrior for pediatric cancer awareness, teens who instill hope from Kyle's Place, and those who are thriving because of therapy from Argyle's Ranch Hands Rescue.
This year, House District 63 is again brightly shining on the Texas House tree because of an inspirational youth named Mary Nelson, who is also a student from Argyle ISD.  Mary and her family are a part of the non-profit group Protect Texas Fragile Kids (PTFK), a group of Texas families who work tirelessly to advocate for medically fragile children. If you ever have the opportunity to meet Mary, it will be evident that she is one of Texas' brightest stars. Mary and her family chose to decorate this year's ornament with a sparkly outline of our state surrounded by various colored awareness ribbons that read "Include, Inspire, Invest". It is a clear message that no one should have to fight alone!
Mary's spirit truly captures the essence of our great state. At just six months old, Mary was diagnosed with Spinal Muscular Atrophy, a genetic condition that affects the body's voluntary muscles, but it does not affect her cognitive abilities. Using a robotic arm and a power wheelchair, Mary is unafraid to accept and conquer new challenges. She is a determined pioneer who was one of the first power chair participants at the Chisholm Challenge, a horse show for special riders at the Fort Worth Stock Show.
Behind Mary's quest for achievement is her supportive brother and parents who have recognized that this world is full of possibilities and opportunities. And like Mary, they too understand that Texas is a state of fighters who readily accept that limitless possibilities await those who are willing to take a chance and in turn, hope their boldness opens doors for others.
When I meet families like the Nelsons and so many others across our state, I am always reminded that every life is precious and has a purpose. That is why in the 2019 Legislative Session, I was proud to work with PTFK along with Texas State Representative Matt Krause and Senator Charles Perry to successfully pass Senate Bill 1207 on behalf of Texas' medically fragile children. This new law provides critical safeguards to improve and protect lives by making much needed improvements to the Medicaid managed care program and medically dependent children waiver program. While our work in this area is far from complete, we now have the momentum to build upon this legislation to further protect the sanctity of all human life.
In House District 63 and all around our state, there are stories that are shaping our world through the hopes and dreams of others. I am glad that the Christmas tree in the Texas House of Representative has 150 of these stories to tell each year.
It is my hope that during this holiday season we can all strive to be more like this year's Christmas ornament artist, Mary Nelson, who will undoubtedly blaze new trails in 2020 while inspiring everyone to fight for what's right, and invest our time and talents on the issues and people we love the most.
My door is always open if you wish to ask questions about this or share your thoughts about other topics on your mind. Simply call my Capitol office at (512) 463-0688 or send an email to [email protected].
Wishing you and your family a wonderfully blessed Christmas season and happy and healthy New Year!