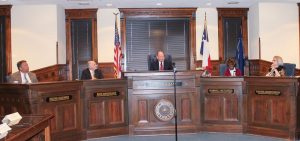 The Denton County Commissioners Court gathered for an emergency meeting on Tuesday morning to approve funding for courthouse pipe repairs that will prevent expected flooding this weekend.
Scott Arledge, the county's director of purchasing, said during the meeting that the county is in the process of replacing drainage pumps at the county courts building, 1450 East McKinney St., but an unforeseeable break has rendered them both not working. With rain in the forecast this weekend, the building could flood if repairs are not made, staff said.
The project of replacing the pumps was originally at a cost below $50,000, which is below the required bidding limits, but this additional cost would cause the cost to go over $50,000, which created the need for an exemption from the bidding process to ensure the work is done before the rain this weekend, Arledge said.
The quick meeting ended after the court voted unanimously to approve the request. Only Precinct 2 Commissioner Ron Marchant was not present.