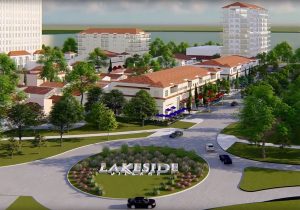 Officials with Realty Capital Management, master developer of Lakeside DFW in Flower Mound, announced Tuesday that Sunset Legacy, a partnership between the Peter P. Stewart family of Dallas and Realty Capital of Irving, closed on a $41 million construction loan last week.
The construction loan will fund the remaining land assemblage and public infrastructure costs for Lakeside Village, a 40-acre resort community on Lake Grapevine. Lakeside Village is the final phase of the 165-acre Lakeside DFW mixed-use project that includes shops, restaurants, offices and a variety of residential options, including the 15-story Lakeside Tower luxury condominium.
The public infrastructure work includes public streets, an underground parking garage, sidewalks, landscaping, utilities, and public amenities such as the Lakeside Village amphitheater and bluff trails above the lake, which will lead to six restaurants and a wedding chapel overlooking Lake Grapevine, according to a news release from Realty Capital. Groundbreaking for the project infrastructure is set to begin in early 2020.
First United Bank is the lender of the construction loan for Lakeside Village. This is their second significant investment in Flower Mound. The bank provided a construction loan for the Town's first Class A office project called Lakeside International Office Center, which is under construction a short walk away from Lakeside Village. One of the driving factors for the development of the Lakeside International Office Center, which is a partnership between Realty Capital and Staubach Capital, was the vision of Lakeside Village.
"The infrastructure being built with this financing will lay the groundwork for one of the most intriguing suburban mixed-use communities in the United States," said Peter B. Stewart, president of Sunset Legacy. "Lakeside Village will offer luxury residential, hotels, retail, and Class A office within a walkable community overlooking Lake Grapevine. The horizon-long lake views framed by restaurants, public spaces, venues, and trails, will make it a world-class destination."