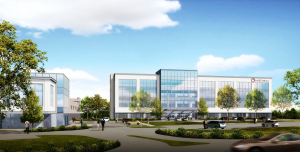 Realty Capital, in partnership with Dallas-based Staubach Capital, has begun construction on Lakeside International Office Center in Flower Mound.
The project will include two Class A office buildings: 777 International Parkway, a four-story, 120,000-square-foot office property; and 737 International Parkway, a two-story, 18,000-square-foot office property, according to a news release.
Both buildings will be located just south of the intersection of International Parkway (FM 2499) and Lakeside Parkway in south Flower Mound and offer large, efficient floorplates and floor-to-ceiling glass.
JLL's Cannon Camp and Chris Doggett will lead the marketing and leasing efforts for the property. Staubach Capital provided the equity financing and First United Bank is providing the debt financing for the project.
"Flower Mound has established itself as an attractive area for new residents and businesses with a growing number of shops, restaurants, entertainment and residential options in the Lakeside mixed-use community," said Jeff Staubach, Founding Partner of Staubach Capital. "Lakeside International Office Center will be the first of its kind in this part of the metroplex, providing a premium office experience with top-of-class amenities."
JLL also announced today that IntelliCentrics will be the property's inaugural tenant. The company agreed to a 30,000-square-foot office lease in 777 International Parkway, which will encompass the entire fourth floor of the building.
"I am extremely excited for IntelliCentrics' world-wide headquarters to locate in the Lakeside development in Flower Mound, and as a 22-year resident of Flower Mound I feel the vision is perfect for sustained growth benefiting both residents and commercial tenants," said Mike Sheehan, CEO of IntelliCentrics.
The building was made possible due to the town of Flower Mound's commitment to fulfilling their master-plan, which envisions office development along International Parkway at the southern entrance to the town, according to the news release. Their willingness to offer an aggressive incentive package helped Realty Capital obtain the debt financing needed to construct the buildings prior to any tenant commitments being secured.
"Since the adoption of the Master Plan in 2001, the Town of Flower Mound has envisioned corporate office buildings along International Parkway to serve both as an employment center and a boost to the Town's commercial tax base," said Flower Mound Mayor Steve Dixon. "The incentive agreement sends a strong message to the corporate office market that Flower Mound is committed to being a prime location and welcomes them to our community."
Property amenities will include a tenant lounge, coffee bar, building signage fronting International Parkway, structured parking, nearby quality dining and shopping options and trail system connecting to The Shops at Lakeside.
The architect for the project is Boka Powell and the general contractor is Muckleroy and Falls.  The project is expected to deliver in the third quarter of 2020.
For more information about Lakeside Corporate Office Center in Flower Mound, visit www.lakesideioc.com.