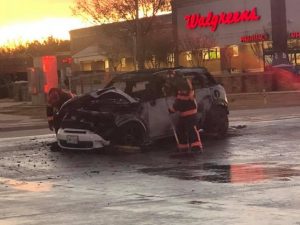 A vehicle caught fire while driving in Flower Mound early Wednesday morning, according to the Flower Mound Fire Department.
The passenger vehicle was headed north on FM 2499 at FM 3040 when it caught fire, said FMFD spokesman Brandon Barth. The occupants — one person and one dog — were able to escape before firefighters arrived. The vehicle was fully involved when they got there and quickly extinguished it.
The cause of the fire was not immediately known, Barth said. The vehicle was expected to be towed around 8 a.m. and the road re-opened soon after that.