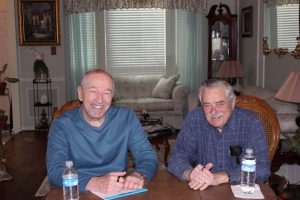 When I was a young lad I used to hear middle-aged people talk about retiring some day and sitting back on their rocking chairs. It often made me wonder what happens to someone when that's all they have to look forward to. I've always believed that the elixir of life is contained in one's attitude toward the future. There are many circumstances that you might not have much control over, but, attitude is not one of them. Every day we have a choice about the attitude we will embrace. We've all known people who are so pleasant to be around that we look forward to their company. They have a ready smile and a cheerful approach to every conversation. They make friends easily because their personality is magnetic.
Conversely, there are those who always look as though they had just finished sucking on a lemon. Shake hands with them and you feel a cold shiver up your spine. Their blank stare and grim expression is like a hostile voice telling you to back off. Chances are, you won't be making any plans to see them again. The longer I live, the more I realize the impact of attitude on life. We can't change the inevitable, but, we can adjust how we respond to it. I'm convinced that life is 10% what happens to us and 90% how we react to it. Happy people have an attitude of gratitude!
Flower Mound resident Doug Brown is my idea of a guy with a superior attitude! The nonagenarian is one of the most popular people in town and one of the most active. Recently, the 94 year-old World War 2 veteran was honored with the Governor's Volunteer Award for making a difference in his community through volunteer work and service. Several years ago, Doug taught himself how to repair broken or out-of-date computers. I asked Doug to come over for an interview to tell our viewers the secret to a good attitude and a long, happy life. The following bio was sent by Doug:
"I was born 16 Oct 1925 in Joliet Illinois. Grew up on a farm during depression, graduated HS 1943, entered Army Air Corps in April, 1944. Had my basic training at Sheppard Army Air Field, Wichita Falls, then, South Plains Army Airfield Lubbock (glider base). I was the featherweight boxing champion of camp, then to OK Enid and Altus, crew chief on B-25s and later A-26s; out October 1945.  Rejoined Army Jan 1948 – Counter Intelligence Corps, now Military Intelligence, for 18 ½ years – 4 years Italy, 3 years Germany, 3 years France.
"Retired to Puerto Rico in August 1966 for 18 years, then moved to Flower Mound.  I worked as independent contractor for American Express March 1985 – September 1997.  My wife had cancer for 13 ½ years, so I had to stay home full time with her Sep 97 – Sep 98, when she passed.  That year, I started working with computers to stay busy. I was on the first board of Flower Mound Senior Center and was there for 11 years.  I've been active in Retired Senior Volunteer Program (RSVP) since 2003. In Citizens Patrol since 2010 and taught ESL at CCA for 13 years.  I've been married to Clare for 6 1/2 years – May 2013.  Have 4 living children, eldest daughter died of cancer in 2014.  I have 9 grandchildren and 12 great-grandchildren."