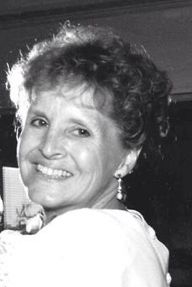 Marlena (Deak) Meyer Bimmerle was born in Bellevue, Kentucky on May 14, 1938. She left this world on November 22, 2019 to join a peaceful, eternal afterlife with our God in heaven. Deak was the fourth of six children born to Stanley and Helen Meyer. Deak was a product of a worldly father who ran a restaurant in downtown Cincinnati and a vivacious mother who made Deak's life colorful and eventful, to say the least. As a child Deak bested her brothers in climbing trees while she dreamed of tutus and figure skates.She grew up in Cincinnati and graduated from Mother of Mercy High School in 1956.
Deak met Chuck Bimmerle during their high school days on a blind date. She was at first skeptical of his big ears but quickly fell in love with his big heart. The two could be found cruising on Deak's Honda 125 motorcycle and Chuck's Honda CB750. Deak and Chuck began their family of nine children in Cincinnati, then in Harper Woods Michigan, and finally settling in Double Oak, Texas in August of 1976. During that summer, the population of Double Oak grew by 5%. There, she found a house with a huge yard, which became a blank slate for her creative and loving green thumb. Deak began with a flat, weed-ridden acre, and transformed it into "Deak Park"—a hidden gem that rivals anything you would find on the cover of Fine Gardening magazine. We will always have Mom's flowers, plants, fairy statues, fish-pond, and bird houses to celebrate her love of nature.
Deak was preceded in death by her brother Stanley, sister Nicky, parents Stanley and Helen, and her granddaughter Jacqueline. She is survived by her devoted, loving husband, Chuck, her nine children Brad Bimmerle (Mary), Stephanie Laubacher (Pat), Renee White (Bruce), Cliff Bimmerle (Liesel), Christie Schutt (Andy), Valerie Price (Charlie), Jason Bimmerle (Lori), Clayton Bimmerle (Tracy), Stan Bimmerle (Katie), her 23 grandchildren, and 12 great grandchildren, plus dozens of informally adopted sons and daughters, friends and neighbors who loved her like a mom.
In lieu of flowers the family recommends that donations be made in Deak's name to In My Shoes at www.liveinmyshoes.org.
A visitation and rosary will be held atMulkey-Mason funeral home in Lewisville, Texas (740 S Edmonds Ln, Lewisville, Texas 75067) from 6:00pm to 8:00pm on Monday November 25.
Funeral mass will be at St. Phillip the Apostle Catholic Church in Lewisville, Texas (1897 W. Main Street, Lewisville, Texas 75067) at 2:00pm on Tuesday November 26.
Deak did not want anyone crying or dressed in black or dark clothes. She wanted her passing to be a celebration of her life. Her wish was that everyone wear yellow (or other bright colors)—she would love to look down from Heaven and see all the colors of her garden at her celebration.