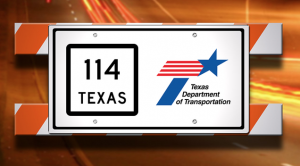 The Texas Department of Transportation will hold a public meeting next month to solicit comments from residents about a proposed project to expand Hwy 114 from I-35W to Hwy 377 in Roanoke.
That stretch of Hwy 114 is a four-lane divided highway. In the proposed project, TxDOT is planning to turn it into a six-lane rural freeway with two-to-three lane frontage roads in each direction, according to a notice from TxDOT. There are currently two stoplights in that stretch, and the plan is to have an overpass at the Cleveland Gibbs Road/Dale Earnhardt Way interchange and an underpass at the Litsey Road/Briarwick Parkway interchange.
The proposed project would have the mainlanes divided by a concrete barrier, and nothing would be displaced by right-of-way acquisitions.
The meeting will be held from 6-8 p.m. on Dec. 17 in the cafeteria at Gene Pike Middle School, 2200 Texan Drive in Justin. Representatives from TxDOT and project consultants will be there to answer questions. The meeting will be an open house format with no formal presentation.
Written comments from the public are requested and will be accepted for 15 days after the meeting.