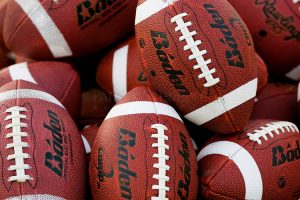 Flower Mound 31, Keller 30
Flower Mound recorded its first playoff win in school history and advanced to the area round on Friday night after a nailbiter with Keller.
Bert Auburn got things going for the Jaguars on a 28-yard field goal, but a Keller touchdown made it 7-3 Indians at the end of the first quarter.
Pierce Hudgens scored on a 5-yard run less than a minute into the second quarter to give Flower Mound the lead, and Carson Winters scored on a 56-yard touchdown pass from Blake Short as Flower Mound led 17-10 going into the break.
Reid Touchstone extended Flower Mound's lead to 14 points in the third quarter, but three unanswered touchdowns in the fourth from Keller gave the Indians a 30-24 lead with 1:25 to play.
Flower Mound (8-3) won in the waning seconds on a 3-yard pass to Touchstone from Short.
The Jaguars will play Duncanville at AT&T stadium on Nov. 23 at 3:30 p.m.
Cool moment for @FlowerMoundHS principal @russellcw89 head coach @bbasil01 and staff after @JagFootball's FIRST playoff win in school history! @FloMoJagNation ? #WeWillWin @lorenziniphotog pic.twitter.com/pOrKNydQN3

— Kris Gutierrez (@KrisGutierrez) November 16, 2019
Coram Deo 21, Shelton 12
The Lions avenged an earlier season loss on Friday night in what started out as a back and fourth affair in the bi-district round.
Shelton struck first with a field goal, but CDA answered on a 45-yard touchdown pass from Peyton Inderlied to Zach Ledbetter.
Jack Corley then returned an interception 54-yards for a touchdown, as Coram Deo led 14-6 at halftime.
Shelton cut the deficit to two points with a touchdown of its own in the third quarter, but Coram Deo (5-6) answered with a 44-yard touchdown pass from Inderlied to Aidan Saucedo.
Coram Deo will play the winner of the Lubbock Christian/Arlington Grace Prep game at a time and date to be determined.
Marcus 34, Keller Central 7
Marcus did not have much trouble with the Chargers on Friday night in their bi-district matchup.
Jaden Robinson scored on a 6-yard pass from Garrett Nussmeier and Ty'son Edwards scored on a 3-yard run to make it 13-0 heading into the second quarter.
Nussmeier and Robinson hooked up on a 48-yard pass in the second quarter, and the Marauders held a 20-7 halftime lead.
In the third quarter, Nussmeier hit Collin Sutherland on a 7-yard pass and Edwards scored on 17-yard run to put the game away for the Marauders.
Marcus (10-1) will square off with Lake Highlands in the area round on Saturday, Nov. 23, at 1 p.m. at the Ford Center at The Star in Frisco.
I bleed silver.
I bleed red.
I'm a Marauder.
'TIL I'M DEAD!

Playoffs Round 2!!!!! We still hungry. pic.twitter.com/nbQasvIqBT

— MARCUS RED NATION (@MarcusRedNation) November 16, 2019
Guyer 50, Hebron 30
Hebron gave Guyer all it could handle in the bi-district round on Friday night, but the Wildcats prevailed.
The Hawks jumped out to a 7-0 lead, but Erik Arellano kicked a 26-yard field goal to cut the deficit to four points, as Hebron led 7-3 after one.
Eli Stowers connected with Seth Meador on a 34-yard touchdown pass early in the second to give Guyer a 10-7 lead, but Hebron tied it up on a field goal.
Kaedric Cobbs then scored for Guyer on a 5-yard run, and the Wildcats led 17-16 at the half.
The Wildcats got some breathing room in the third quarter, scoring on two touchdown runs (10 yards, 5 yards) by Cobbs to take a 30-16 lead into the fourth quarter.
Hebron and Guyer exchanged two touchdowns a piece in the fourth quarter, with Cobbs breaking a 35-yard run as well as a 1-yard run, and then Tiyon Aldridge sealed the victory with a 20-yard run to make it 50-30.
Guyer (10-1) will play Cedar Hill in the area round at noon on Saturday, Nov. 23, at AT&T Stadium.
Antonian Prep 27, Liberty Christian 22
The season came to an end for the Liberty Christian football team on Saturday afternoon in spite of a massive second half rally.
The Warriors trailed 17-0 at halftime before breaking through on a 30-yard touchdown pass from Daniel Greek to Kelen Moran to make it 17-6.
Moran kicked a 19-yard field goal to cut the deficit to eight points, but Antonian answered with a touchdown to make it 24-9 heading into the fourth quarter.
A minute into the fourth quarter, Greek connected with Jalen McCoslin on a 4-yard pass to make it 24-15 in favor of Antonian Prep.
Liberty would score once again before the end of the game, but could not complete the comeback.
Argyle 56, Dallas Carter 23
Argyle had little trouble with the Carter Cowboys in the bi-district round on Thursday night.
Alex Gonzalez got things going for the Eagles on a 59-yard touchdown pass from Cade Merka.
Cole Kirkpatrick scored next on one of his two first-quarter touchdowns, this one a 48-yard pass from Bo Hogeboom.
Kirkpatrick would score on a 13-yard pass from Hogeboom following a Luke Farris 5-yard run and Dallas Carter score, as Argyle led 28-7 going into the second quarter.
Knox Scoggins got things going in the second quarter for the Eagles, scoring on a 16-yard run and Kirkpatrick caught a 7-yard pass for his third touchdown reception of the night.
Farris scored on a 6-yard run as the Eagles took a 49-7 lead into the half.
Carter scored early in the third quarter, but Argyle answered with an 8-yard touchdown pass from CJ Rogers to Michael Zarcone.
Carter scored twice more in the game, but it was too late to make any kind of comeback.
Argyle (11-0) will square off with Stephenville in the area round on Thursday, Nov. 21, at Mansfield Newsome Stadium for a 7:30 p.m. kickoff.
Southlake 84, Lewisville 6
The Fighting Farmers playoff hopes were dashed on Friday with a loss to Southlake.
Texas High School 6A Div. 1 Playoff Football!

Lewisville Fighting Farmers @ Southlake Carroll Dragons – 7 pm
Dragon Stadium – Southlake, Texas)

Win or Go Home!#FARMERSTRONG#DRAGONSLAYERS pic.twitter.com/Czio5kJDw2

— Dudley McAfee (@27hometeam) November 15, 2019