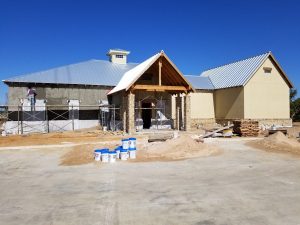 Monthly roundup of news from Lantana, TX as published in The Cross Timbers Gazette.
Community Center Progressing
Work is moving along well on Lantana's newest amenity.
The 4,800-square-foot Lantana Community Center, at the north end of Lantana Trail, will serve as a much-needed gathering space for both indoor and outdoor events.
It will feature two inside activity rooms– that can be used simultaneously or combined into one large event space– a catering kitchen, and surrounding outdoor event lawns and play spaces.
Residents will have the opportunity to reserve the space for personal use and will enjoy programming that the association previously could not accommodate, due to a lack of facilities.
Mark Norton, manager of the Lantana Community Association, said that the center could host such events as father/daughter dances, comedy shows, wine tastings, acoustic music, sport-watching parties, Mardi Gras balls, wedding receptions, family reunions and kids' camps, to name a few.
"The skies are really the limit," said Norton. "If you can think of it, we can give it a try."
Outside the center, there will be two lawn areas with benches and ping pong tables.
"We are trying to make this a destination," said Norton.
He estimated that the center could accommodate around 200- to 250-people for a seated event.
The building will cost approximately $1.8 million and is funded by a budget surplus, according to Norton.
"To protect your home property values, Lantana needs to stay relevant after the developer leaves," said Norton. "Having this facility, in conjunction with the Lifestyle Program, just keeps Lantana as relevant as any new-construction community going on in the nearby area. Having a desirable neighborhood doesn't end with the builder driving-off."
The community center is expected to open by February 2020.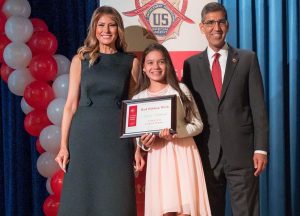 Traffic Study Underway
District 7 officials are working to address traffic concerns in the Barrington subdivision at the north end of Lantana Trail.
Trinidad Way is a long, straight residential street that runs off the Lantana roundabout, and a large number of commuters are utilizing it to make their way to Copper Canyon Road.
"The residents have been concerned about speeding issues and cars trying to pass cars," said Kevin Mercer, Lantana General Manager. "I took the traffic data from our speed feedback signs to the board a couple months ago and what they found equally alarming was the number of cars going through there each day.''
Mercer said that traffic counts show about 900 vehicles per week use the street which is lined with new homes.
"There is an occasional driver going through there at over 40 miles per hour," said Mercer. "There are also reports from residents that motorists are running stop signs."
The board authorized a traffic study last month at a cost of $15,000 with the goals of reducing the volume of traffic, plus ensuring that motorists are adhering to the posted 25-m.p.h. speed limit.
"The first part of this study is to collect the data and then the second part is going to be to make recommendations to try and correct matters up there," said Mercer.
"We feel like most of it is students going to and from Guyer High School each day. I don't know if we can achieve the goal of somehow encouraging them to take Stacee Lane to Hickory Hill."
The board is expected to review the traffic study and discuss recommendations at its November meeting on Nov. 19.
 New FWSD Website
 The Fresh Water Districts' new website is now live. Navigating the new site is much simpler now and information is much easier and quicker to find. Please check it out at www.lantanatx.org.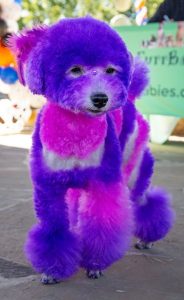 Save Your Quarters to Help Find a Cure
The Lantana Ladies League is hosting its Annual Quarter Auction on Nov. 19 to benefit the Juvenile Diabetes Research Foundation (JDRF). The national organization, with a local chapter in Dallas/Fort Worth, is working to find a cure and help provide better daily-living for those with Type 1 Diabetes.
How does the quarter auction work?
Attendees purchase paddles, one paddle for $5 or three for $10. Bidders use the paddles to bid on great auction items using quarters. Local businesses donate auction items and winners take home items that night.
To prepare for the holiday season, attendees may also shop for a wide variety of merchandize from vendors. The event is open to league members and guests, to enjoy light hors d'oeuvres and a cash bar, as they browse the vendor tables.
Lastly, the Ladies League will be collecting Socks for Seniors at this event. Each year, thousands of lonely seniors struggle with the holiday blues. Help us warm their hearts this holiday season by donating a pair of holiday socks. The funnier, funkier and brightly-colored holiday styles are perfect. Plus, attendees who bring a pair of new, holiday socks will be entered in a special drawing.
Don't miss out on this highly attended event on Tuesday, Nov. 19, at the Lantana Golf Club, 800 Golf Club Drive. Doors open at 6 p.m. Auction begins at 7:30 p.m. Members and guests can RSVP at lantanaladiesleague.com
For more information about sponsorship, vendor space or to make a prize donation, please contact: Krista Middleton or Kathy Hummell, [email protected].
For more information on the Lantana Ladies League, go to: lantanaladiesleague.com or to the Lantana Ladies League Facebook page.
-Submitted by Kristine Hallingstad
Development Watch
Lantana had 3,850 occupied homes as of Sept. 30 with an estimated population of 12,480.
There were 2,120 single-family building permits issued in Fresh Water Supply District #6 and 1,857 permits issued in Fresh Water Supply District #7 for single-family homes through the month of September, for a total of 3,977 permits.
Total build-out is estimated to be approximately 4,000 homes.