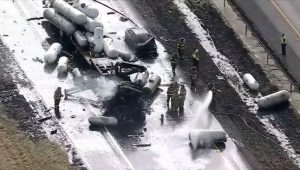 Three victims have been identified from Friday's fatal, explosive crash on I-35W.
Four passenger vehicles and two tractor-trailers were involved in the crash on Friday afternoon just south of the I-35E/I-35W split in Denton, according to Denton police. One of the tractor-trailers was carrying butane, a highly flammable gas, causing an explosion. Three people were confirmed dead, police said, and three were taken to the hospital with minor injuries.
Monday, the Tarrant County Medical Examiner's office released the identities of the victims who were killed in the crash: Jennifer Ferguson, 30, of Fort Worth; Ann Cole, 63, of Denton; and Paul Sachs, 59, of Fort Worth.
A police spokesperson said Monday evening that police are still investigating the crash and did not release details about what caused it, other than saying Friday that speed was believed to be a factor.