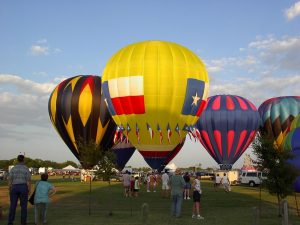 A staple annual event of the local community will continue on without its trademark feature, the hot air balloons.
The Highland Village Lions Club and its foundation recently decided to change its annual Lions Balloon Festival to a family festival with an emphasis on live music, said Emily Rohne, president of the club and foundation and festival chair. Rohne said the decision was a difficult one but the balloons were no longer feasible.
"Our club is getting smaller and older," Rohne said. "The balloon piece is a very expensive piece, and we didn't have the manpower."
The last event, held in August, was the 32nd annual balloon festival. The club had already decided to move the annual event from mid-August to September each year, starting in 2020, in hopes of better weather and better timing with the school year. Rohne said weather also played a major part in the decision to remove the balloons from future festivals.
"The weather is so hard to predict, and balloons are weather-dependent," Rohne said. "We hated to do it, but with moving to a new date, now is a good time to make this change."
The 2016 balloon festival was canceled because of bad weather.
Rohne said future festivals will be called Lions Family Festival in Highland Village. Past events took place Friday through Sunday, but now they will just be on Friday nights and all day Saturday. There will be an emphasis on more well-known bands each evening, and organizers are bringing back the Saturday morning 5K run that hasn't been done the past several years. There will still be a car show on Saturdays and a kids zone, food court, and poster concert for local schools, and more.