Who doesn't want a Thanksgiving where they don't have to cook anything? If you're anything like us, you're looking for restaurants who can help you out with just dessert or even the whole meal!
These Foodie Friday DFW restaurants are offering food for Thanksgiving, whether it's pre-order or they're open the day of.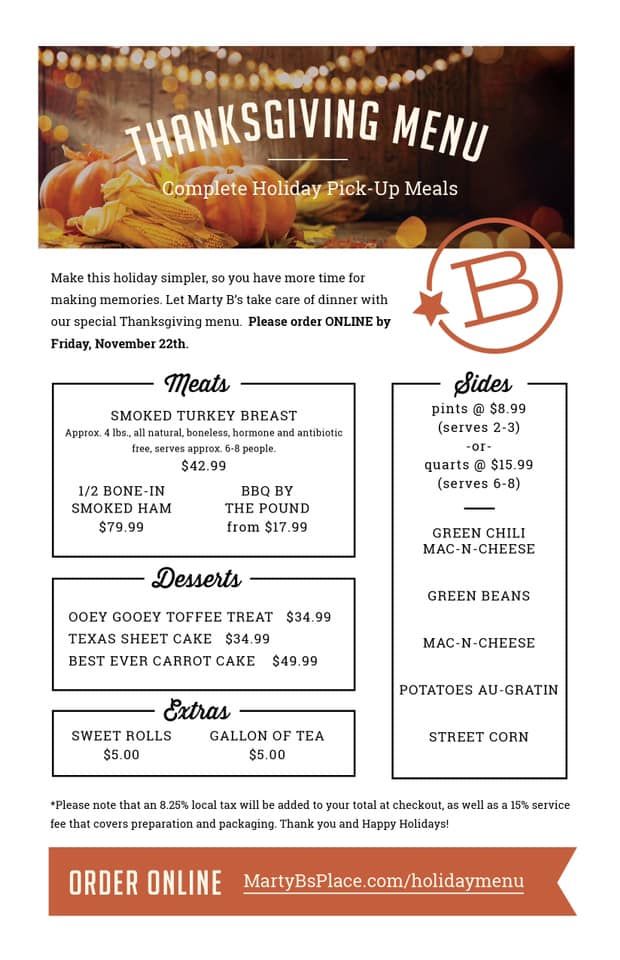 Marty B's
Marty B's is taking holiday catering orders online! And we're sure your Thanksgiving guests would love a true Texas-style meal. All pick-up orders for Thanksgiving must be placed by Friday, November 22, so get them in fast!

Flour Shop Bakery
The Flour Shop Bakery has lots of delectable treats available for Thanksgiving orders this year. Choose from their assortment of pies, cinnamon rolls, cakes, cobblers, breads, cookies and more! All orders must be placed by Saturday, November 23 and orders can be picked up on Wednesday, November 27. Call 972.355.3600 or email [email protected]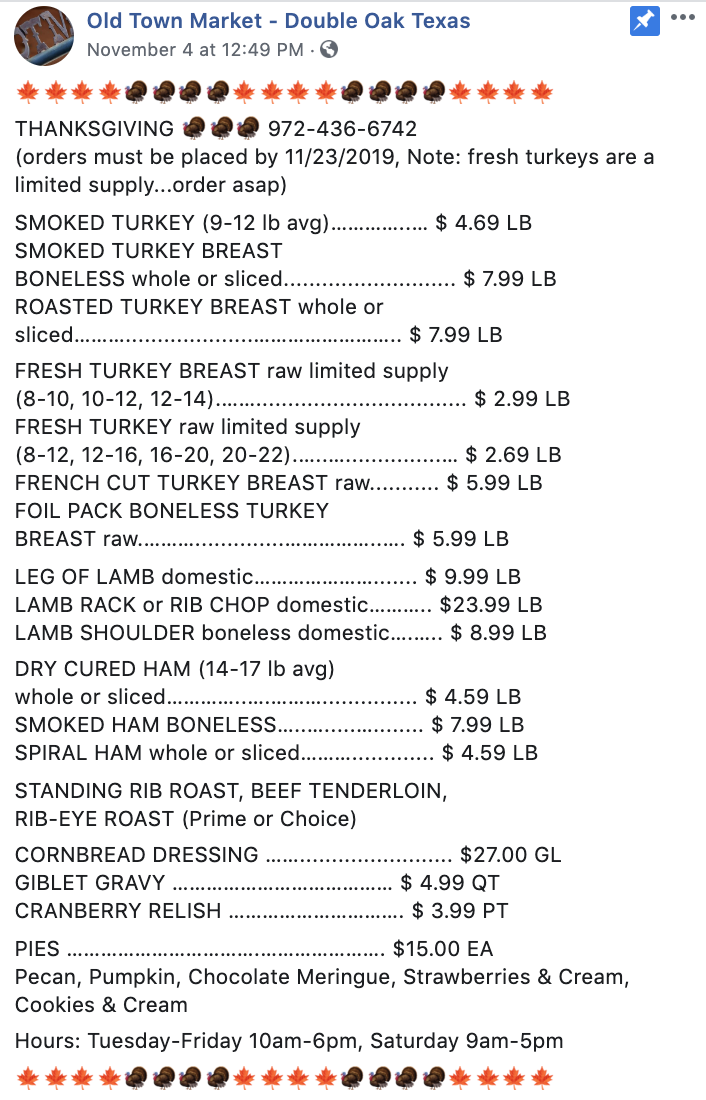 Old Town Meat Market
The Old Town Meat Market in their new location in Double Oak is offering Thanksgiving specials so you can serve up the best meat possible at your home-cooked Thanksgiving dinner. Their fresh turkeys are in limited supply so they suggest calling ASAP to get those reserved. They also have lamb, ham, roast, cornbread dressing, cranberry relish, and pies. Call 972.436.6742 to place your order by Saturday, November 23.

Swirl Bakery
Every year, Swirl Bakery offers fully cooked Thanksgiving feasts for pick-up that just need to be heated up before serving. That's our kind of meal! You can choose from Thanksgiving Breakfast, Thanksgiving Dinner, or Thanksgiving Dessert items and can place orders by phone at 214.513.1334 or in-store. Orders must be placed by Wednesday, November 20.

Hive Bakery
We've sampled the pies Hive Bakery has on their Thanksgiving menu and they're awesome! Our favorites were the Dutch Apple, Pecan, and Pumpkin. In addition to pies, you can order bread loaves, cinnamon rolls, scones, cookies, and yeast rolls. Orders must be placed by November 22 by calling 972-316-7625 or by emailing [email protected] And order pick-up will be on Wednesday, November 27.

The Tavern at Lakeside
Head over to Lakeside DFW where The Tavern will be open from 3:00-11:00pm serving a traditional Thanksgiving buffet. We're hoping some of their Crispy Brussel Sprouts will be in the mix! Reservations are not required, but are encouraged to ensure you have a seat! Call 469.293.3441 to make your reservation.

Salerno's
Salerno's is serving a buffet again this year from 11:00am-2:00pm. They serve traditional Thanksgiving items as well as some Red Snapper, lasagna and penne pasta. Reservations are required, so call to make yours today at 972.539.9534.

Bistecca
Bistecca is also serving a Thanksgiving buffet from 11:00am-2:00pm. Items included are a duck salad, roast sirloin, and Grandma's Meat Stuffing. We did hear they might already be full, but you can try giving them a call to make your reservations at 972.318.0515.
This year they're also offering to-go Thanksgiving orders with turkey, their Grandma's dressing, squash casserole, pies, and more. Orders must be placed by 5:00pm on Tuesday, November 26 by calling the same number above or emailing [email protected]
Carvao
Carvao is usually open and taking reservations for Thanksgiving, where they serve traditional Thanksgiving items in addition to their usual Brazilian-style cuisine. Give them a call at 972.539.8555 to get your spot reserved!