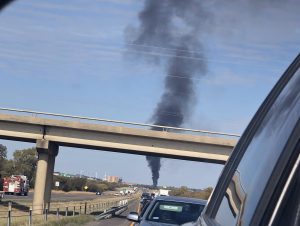 A tractor-trailer "exploded" in a major crash on I-35W in Denton on Friday afternoon, killing multiple people and forcing the closure of the interstate in both directions.
Denton police said that first responders were were called to the incident before 1:30 p.m. near Mile Marker 84, just south of the I-35W/I-35E split. Four passenger vehicles and two tractor-trailers were involved in the wreck. One of the tractor-trailers was carrying butane, a highly flammable gas, causing the explosion. Three people are confirmed dead, and three were taken to the hospital with minor injuries.
Speed is believed to be a factor, according to the Denton Police Department.
Both the northbound and southbound lanes were closed down for several hours, with traffic being diverted at FM 2449 to the south and the I-35 split to the north. Drivers are encouraged to seek alternate routes. Around 4 p.m., southbound lanes were reopened.
Northbound I-35W reopened on early Saturday morning.