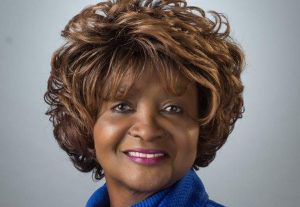 As the season of Thanksgiving nears, I want to take this opportunity to acknowledge the community partnerships we have with the towns and cities across the county and, in particular, within Precinct 3.
With over 859,000 people in Denton County and more arriving daily, our population has grown an estimated 29 percent since 2010. In that same timeframe, 14 of our cities grew by 10 percent or more.
As we continue to experience growth in Denton County, together we have enjoyed the opportunities of new retail businesses, job opportunities and additional neighborhoods.
We've welcomed everyone from Mary Kay and Ericsson in Lewisville to Thirty-One Gifts in Flower Mound – just to name a few. My hope is that everyone has the opportunity to work close to home in Denton County.
As the county has worked with our partners to continue attracting new opportunities for our residents, we've also collectively addressed the challenges growth brings.
As you've heard our County Judge say, transportation is a family value. We say that because it affects your daily life. No one wants to be late for work because of traffic issues and no one certainly wants to miss their children's sporting events, music performances or other evening family activities.
That is why Denton County works closely with our communities to look beyond today when it comes to our roads and highways.
Transportation is an important part of the Denton County Commissioners Court's role. We want to keep county taxes low as well as provide good roads and easy access to county services – whether that is registering your motor vehicle or providing services to the more than 45,000 veterans who live in our county.
This is about all of us and our quality of life. We make sure we take care of our citizens as well as our cities.
I enjoy working with our partners in Lewisville, Flower Mound, Highland Village, Hickory Creek, Lake Dallas and Shady Shores.
Instead of re-creating the wheel, we work together to insure the best use of our taxpayer monies. And we make sure future generations have the same opportunities we have been given in Denton County.
For these partnerships to benefit all, I am thankful. May each of you have a blessed Thanksgiving holiday season.
Veterans Day Ceremony, Picnic Set for Nov. 3
The Town of Flower Mound will honor local veterans in a special Veterans Day ceremony and picnic on Sunday, Nov. 3, at Flower Mound High School's football stadium, located at 3411 Peters Colony Road. The picnic from 1 p.m. to 2 p.m. includes free hot dogs, cake and lemonade. The ceremony begins at 2 p.m. and features a performance by the Flower Mound Symphony Orchestra and a Veterans Review where local Boy Scouts, Girl Scouts and ROTC units parade in uniform before attending veterans. For more information, call 972-874-6276.
Holiday Stroll in Lewisville Set for Dec. 7
From pancakes and photos with Santa beginning at 8 a.m. to hay rides through Old Town until 8:30 p.m., the City of Lewisville has a full day of family events for the 2019 Holiday Stroll on Dec. 7.
This year's holiday festival also features Christmas ornament painting, a Toy Run motorcycle ride, scavenger hunt, plaza movie, music, petting zoo and much more.
The Huffines Auto Dealerships Lewisville Christmas Parade will be at 3 p.m. Anyone interested in participating should visit www.cityoflewisville.com and fill out an online application by Nov. 25.
Flower Mound Plans 30th Annual Christmas Parade 
The Town of Flower Mound is gearing up to celebrate its 30th annual Christmas Parade on Saturday, Dec. 7, from 6 p.m. to 9 p.m. With a theme of "The Twelve Days of Christmas," a nighttime parade will feature lighted floats along Spinks Road. At the end, a tree lighting ceremony is planned at Gerault Park.
To participate in the parade, an online registration form must be turned in by 5 p.m. on Friday, Nov. 22. The form can be found at www.flower-mound.com/parade. For more information or to sponsor the event, call 972-874-6276.
Denton County Holiday Closure for Thanksgiving
Denton County offices will be closed on Thursday, Nov. 28, and Friday, Nov. 29, for Thanksgiving. All offices will reopen at the regularly-scheduled times on Monday, Dec. 2.
Connect With Us:  Be sure and connect with Denton County on Facebook at www.facebook.com/DentonCountyTX and on Twitter @DentonCountyTX.
If you have any questions or comments, please let me hear from you. My email is bobbie[email protected] and my office number is 972-434-4780.