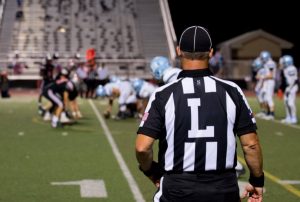 Marcus 49, Irving MacArthur 13
Marcus jumped out to a 35-7 halftime lead on Friday night, and never looked back, trouncing Irving MacArthur.
Marcus (7-1, 6-0) opened things up with a 64-yard touchdown pass from Garrett Nussmeier to J. Michael Sturdivant to make it 7-0.
Jaden Robinon scored on a 17-yard run to make it 14-0 heading into the second quarter.
Robinson added a second 17-yard run to make it 21-0 early in the second quarter, and Ethan Barr scored on an 86-yard interception return before MacArthur finally broke through.
Nussmeier connected with Christian Espinoza on a 44-yard touchdown pass, as Marcus took a 35-7 lead into the break.
Ty'son Edwards made it 42-7 on a 25-yard touchdown run in the third quarter, and Connor Vaughn scored on a 40-yard pass from Brayden Canole to close out scoring for the Marauders.
The Marauders claimed their first district championship since 1997 and delivered head coach Kevin Atkinson his 100th career victory.
Marcus will finish the regular season at 7 p.m. on Nov. 8 at Lewisville in the Battle of the Axe.
A 49-13 victory. A District 6-6A championship. AND Coach @atkinson_kevin's 100th career victory! What . . . a . . . night! #STCDA #ELITE #ProtectTheM #txhsfb pic.twitter.com/edHO7MzuVz

— Marcus Football (@MarcusFootball) November 2, 2019
Guyer 56, Byron Nelson 20
Guyer (8-1, 5-1) had little trouble with Trophy Club Byron Nelson on Friday night in its second to last district game.
Eli Stowers scored on a 15-yard scramble in the first quarter to make it 7-0 in favor of the Wildcats at the end of the first quarter.
Kaedric Cobbs scored on touchdown runs of 3 and 27 yards in the second quarter, and Guyer led 21-3 at the half.
Cobbs added a 4-yard run with 10:46 to go in the third quarter before Nelson scored it's first touchdown of the night.
Seth Meador then caught a 59-yard pass from Stowers and Cobbs broke a 45-yard touchdown run to make it 35-10 Guyer.
Nelson scored again before Cobbs scored on a 1-yard run to make it 42-17 at the end of the three.
Stowers scored on a 37-yard touchdown run early in the fourth, and hit Travis Romar on a 50-yard pass from Stowers to finish things out.
Cobbs finished with 144 yards and 5 touchdowns.
Guyer will play it's season finale at 7 p.m. on Thursday, Nov. 7 against Keller Fossil Ridge in Denton.
Flower Mound 62, Coppell 47
Flower Mound emerged victorious after a Friday night slugfest with Coppell.
The Cowboys kicked a field goal to get things started, before Blake Short connected with 67-yard touchdown pass to Reid Touchstone to give the Jaguars the lead.
Coppell answered with a field goal, and Flower Mound regained the lead with a 35-yard touchdown pass to Parker Clark from Short to make it 14-10 at the end of one.
The Jaguars (6-3, 4-2) extended their lead to 24-10 on a 13-yard run from Pierce Hudgens and a 39-yard field goal from Bert Auburn.
Coppell scored another touchdown, and Flower Mound responded with a 10-yard pass from Short to Touchstone.
The Cowboys scored again and the Jags answered with another field goal from Auburn (41 yards).
Hudgens scored on a 12-yard scamper to start the third quarter and Short scored on a 3-yard run of his own, as Flower Mound led 48-32 at the end of three.
Hudgens would score again on an 18-yard run, and after Coppell cut the Jaguars led to 8 points following two unanswered touchdowns, Reece Carter scored on a 49-yard touchdown pass from Short to close the deal.
Short passed for 453 yards and four touchdowns in the game.
Flower Mound will wrap up the season at 7 p.m. on Thursday, Nov. 7 at Ellis Stadium in Irving against MacArthur.
Argyle 35, Anna 6
The Eagles remain unbeaten after soundly defeating Anna on Friday night.
Bo Hogeboom connected with Cole Kirkpatrick in the first quarter to give the Eagles a 7-0 lead, but Anna answered with a touchdown of its own.
Trevor Duck scored on a 1-yard run before the end of the first quarter, and added a second score on a 2-yard run in the second quarter to take a 21-6 lead into the half.
Argyle (9-0, 5-0) scored again with 6:20 to play in the third quarter on an 8-yard pass from Hogeboom to Kirkpatrick, and finished out scoring in the fourth quarter on an 18-yard pass from CJ Rogers to Grant Mirabel.
Argyle will wrap up the regular season at 7:30 p.m. on Nov. 8 when it hosts Celina.
Liberty Christian 62, Trinity Christian-Addison 28
The warriors got down early, but quickly found their rhythm, as they defeated TCA on Friday night.
Reid Rorick scored on a 46-yard run between two Trinity Christian touchdowns, as Liberty trailed 14-7 early in the first quarter.
Daniel Greek than connected on a touchdown passe to Kelen Moran (71 yards) and Nathan Greek hit Jared Bravenec on a 2-yard pass, followed by a 30-yard interception return from Collin Gamble as Liberty led 28-14 after one.
The Warriors then had a 14-yard blocked punt recovery in the end zone and Moran caught an 8-yard pass, as LCS led 42-14 at halftime.
Liberty made it 49-14 early in third quarter on a 22-yard pass from Greek to Jalen McCoslin, but Trinity Christian answered with a touchdown of it's own.
Greek would hit Moran (36 yards) and Joshua Zambili (30 yards) to close things out for the Warriors.
Daniel Greek threw for 314 yards and five touchdowns in the game.
Liberty Christian wrapped up the regular season with a 3-8 overall mark, and 1-3 record in district.
Hebron 38, Lewisville 14
FINAL: Hebron 38 – 14 Lewisville

Hebron has suffocated Lewisville on both sides throughout the night. Hebron pulled out the 2QB system in the first half and shocked Lewisville, while their defense granted no chances.#txhsfb @friday_stars #FridayNightStars

— Joshua Price (@joshuaprice33) November 2, 2019