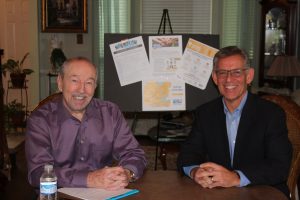 United Way of Denton County is a locally-governed, autonomous, 501(c)(3) charitable non-profit organization that was founded in 1951. It's a powerful movement of volunteers and donors in our community striving to make a difference. Across Denton County, a diverse range of passionate and compassionate people live united to serve those in need across the county.
On a regular basis, United Way of Denton County examines the many competing needs of our community by performing a Community Needs Assessment. The data and narrative identified by this document play a crucial role in determining United Way of Denton County's strategic direction. Between major updates, the organization keeps its finger on the pulse of our community by updating secondary data as it is released by other agencies and organizations. According to United Way, 33% of Denton County students are at risk of dropping out; 29% of Denton County residents are living paycheck to paycheck; and 20% of Denton County residents are impacted by a mental health condition. Follow the link to learn more: www.unitedwaydenton.org
In the video interview, Gary Henderson, President and CEO of United Way of Denton County, tells our viewers more about the organization. The following biographical info was sent by President Henderson:
"Gary Henderson became United Way of Denton County's President and CEO in 2011. Prior to leading the United Way of Denton County team, Gary served as CEO for Communities In Schools of North Texas for nine years where he led this Denton County-based non-profit organization focused on dropout prevention to growth of more than 500%. Prior to entering the non-profit sector in 2003, Gary enjoyed a successful 17-year business career at Price Waterhouse as a Senior Manager leading Investment Management and Security Operations engagements and at Bank of America as a Senior Vice President leading the Private Bank Technology & Operations teams.
"A lifetime donor to United Way since the beginning of his career, Gary brings a bias for growth, a passion for helping people and a deep desire to leverage his skills and experiences to foster cross-sector collaborations that lead to improved and transformed lives for people living in Denton County.  He serves as a board member of North Central Texas Workforce Development Board, board member of the North Texas Low Income Tax Payer Clinic and board member of the Denton Chamber of Commerce, He is a 2014 Graduate of Leadership Denton, was recognized by the Flower Mound Chamber of Commerce in 2011 as Citizen of the Year for his work with Communities In Schools of North Texas and is a past board member of Texas Association of Partners in Education. Gary and his wife Pam have called Denton County home since 1989, and enjoy family time with their two adult children, Lindsay and Mark."